Finance Minister Sammy Wilson: Tesco will not 'bully' us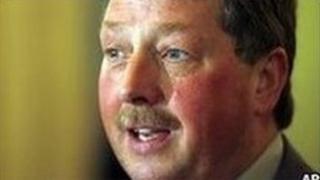 Northern Ireland's finance minister has accused supermarket giant Tesco of attempting to "bully" the Stormont executive over business rates.
Sammy Wilson was defending the proposed increase in rates for larger stores which Tesco has said could affect potential investment of £100m.
The minister claimed that Tesco "must take us for idiots" to claim the investment is in jeopardy.
Tesco called the executive's proposals "the wrong tax at the wrong time".
Mr Wilson made similar comments in the Assembly on Tuesday but went further on Radio Ulster by saying that Tesco had attempted to "bluster and blow and bully" the executive.
The scheme will see a re-evaluation of rates on commercial premises with a rateable value of over £500,000. It is aimed at giving rate relief to smaller businesses.
"Bluster, blow and bully"
The finance minister does not believe that the new tax rate will hold up Tesco's investment plans in Northern Ireland.
"It is not a huge imposition on a large company like Tesco but unfortunately Tesco think because of their economic power they can simply railroad us into doing what they want us to do," he said.
"For them to come up with the argument that this kind of tax is going to put £100m of investment in jeopardy really is pathetic and they must take us for idiots if they think we are going to believe that kind of rhetoric.
"It might well be that they have other reasons for deciding not to go ahead with this investment in the middle of a recession but don't let them put it on a policy which the executive had introduced at the budget.
"Tesco think that because they are a big company they can come in and bluster and blow and bully and they are not going to unseat what I believe is a good policy to help small businesses through the recession."
'Negative impact'
The Northern Ireland Independent Retail Trade Association (NIIRTA), which represents a number of wholesalers and independent retailers, welcomed Mr Wilson's comments.
NIIRTA's chief executive Glyn Roberts said: "Instead of making threats and providing no real alternatives, Tesco should outline their views as how to fund the Small Business Rate Relief Scheme.
"This scheme is about creating a level playing field in relation to rates between large and small retailers."
However, Belfast Chamber of Trade has warned that Mr Wilson's plans could damage town centres.
Chamber president Joe Jordan said: "Without the big retailers you don't have the wee retailers.
"If you start to look at one sector of that and start to damage that sector, I think it'll have a negative impact throughout the entire city."
A spokesperson for Tesco also criticised the minister's proposals.
"This new large retail levy, imposed at a very difficult time for all businesses, will mean less investment and fewer new jobs in Northern Ireland," they said.
"Everyone should be concerned about that. It is the wrong tax at the wrong time for Northern Ireland's economy and communities."
The plans have previously been criticised by the chief executives of ASDA and Sainsburys.