Northern Ireland rates collection body owed £150m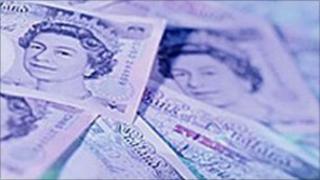 More and more people are finding it difficult to pay their rates and there has been a huge increase in the number of people who have had to enter into special payment arrangements because of their difficulties in paying.
More than £150m is currently owed in unpaid rates but the amount that is being written off and which will never be recovered has jumped by 50% on last year, and it looks as though it is going to get worst.
It is understood that Land and Property Services (LPS), the body responsible for collecting rates, has built in a provision for a £20m write-off for this year, which is more than was expected.
Land and Property Services said it was down to the economic downturn.
They are blaming a significant rise in bankruptcy and liquidation cases over the past two years.
Strict process
When someone is declared bankrupt, or a business is liquidated, LPS declare that particular rates bill a write-off.
They said they follow a strict process when writing off debt.
Last year, Land and Property Services saw a huge jump in the number of people entering into special payment arrangements in order to start to clear their rate debt.
These are people who have fallen behind and want to begin the process of payment.
Last year, 2,000 sought help, but up until March this year that figure rose to about 5,400 - an increase of almost 170%.
In addition, Land and Property Services said they were taking a record number to court over non-payment of rate bills.
Dipped slightly
At the moment they are owed £156m by people who either cannot or will not pay. This is a running total and not just a year's debt.
Land and Property Services is constantly trying to reduce this figure. The amount owed dipped slightly last year for the first time in six years.
The amount owed is particularly significant at the moment because the block grant - the money that comes from the Treasury in London to the Stormont executive - has been cut.
That means there is a greater reliance on locally-raised funds.
Half the money raised through rates goes to local government, the councils, and the other half goes into the pot at Stormont.
To have to forego £156m means a huge dent in the budget.