Belfast's Rain nightclub fined for licence breach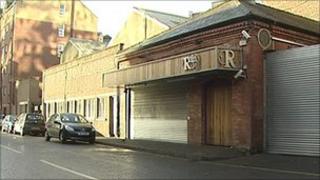 A Belfast nightclub owner has been fined a total of £5,000 for breaches of its entertainments licence.
Coral Inns (NI) Ltd, licensee of Rain in Tomb Street, pleaded guilty to three counts of overcrowding on 30 January, 6 February and 11 February this year.
They were also ordered to pay court costs of £122.
Belfast City Council's licensing committee suspended Rain's entertainments licence for seven weeks following the breaches.
During one inspection, council staff found the club had exceeded its capacity by more than 300.
A council spokesperson said: "The council takes its responsibilities as a licensing and enforcing authority very seriously, particularly where those responsibilities ensure public safety in places of entertainment.
"Belfast has a growing night-time economy and this is something which the council encourages and is extremely supportive of.
"However, where there is the potential for the public's safety to be at risk and where there have been alleged breaches of any licence, the council will take robust action when necessary.
"The council hopes that both the suspension of the entertainment licence and today's ruling sends out a clear message to licensees that overcrowding, or any other breach of their entertainments licence, will not be tolerated as public safety is paramount."