Boat's flying visit to Fermanagh lasts a month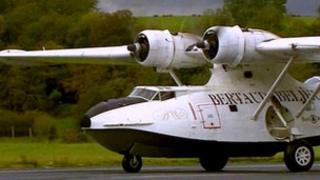 A WW2 Catalina flying boat which took part in the Fermanagh Seaplane Festival a month ago remains stranded at the former wartime airbase on Lough Erne.
It was damaged after drifting onto a moored yacht and there has been a delay in getting the plane repaired.
The incident during the event is being examined by Air Accident Investigators and their report will be made public when it is completed.
The French pilot, Loic Blaise, has had to remain in Fermanagh for the last four weeks.
He has lost his regular job and still doesn't know when he will be able to fly the plane back to Paris.
The Catalina has been secured to concrete blocks at the former flying boat base at Killadeas to help protect it from the weather.
During the Second World War the plane saw active service in the Canadian airforce. Based in Iceland, it sank a German U-boat in 1944.
It has been kept flying after 70 years by a team of volunteers.
Accident investigation
Loic was excited about bringing the Catalina to take part in the September festival.
"We were very honoured to be invited to such a place as it's very historical - there were a lot of flying boat operations there and the significance of the area for the Catalina is very big," he said.
"I really wanted first to get a feeling of what it would have been (like) during the war and meet some people."
One of those he met was 89-year-old veteran Ted Jones who was based at RAF Killadeas as an instructor.
"Ted was in the cockpit with me explaining how to fly this aircraft so I got a flying lesson for free.
"It was a wonderful moment to share that with him because it was one of my last chances to have such a meeting."
During the festival the plane's tail elevator was damaged when it drifted onto a moored yacht.
An air accident investigation is underway and an official report into what happened will be made public.
Amazing hospitality
The damage can be repaired but delays have meant that Loic has been stuck in Fermanagh along with the aircraft.
"We've been stranded here for a month but yes we are working on it now," he said.
"I lost my job in Paris because I am a pilot and I was supposed to go back to Paris to my usual job.
"This is not my job. I am a volunteer and I am glad I can do that but I could not imagine leaving that aircraft alone here even if it is a nice place.
"It needs protection and somebody to take care of her at night when it's very windy so I stayed here, I lost my job and now I'm a bit, how would you say it, penniless?
"I'll go back to Paris and try to get myself a new job soon but she (the Catalina) is worth it."
When local people heard of his plight, he says has been given a lot of help.
"I've been amazed by the hospitality the people around here showed us, it was tremendous - accommodation, a car, a boat to sleep nearby the aircraft instead of sleeping inside the aircraft.
"The (Ennsikillen) airport manager also helped us a lot so the every day people are just incredible and that's the good memory I will keep of the area."
Loic hopes that repairs will be completed in the next two weeks and that he will then be able to return home to France along with the flying boat.