Derry poker players fail to get raid jackpot returned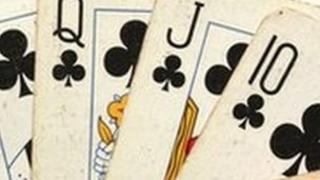 Thirty-eight poker players have failed in a court bid to have £23,700, seized by police following a raid on an illegal poker game, returned to them.
District Judge Barney McElholm told Londonderry Magistrates Court the poker players were unable to prove ownership of the jackpot money.
It was found in various pools when police raided a club in Derry's John Street on 20 December 2009.
The money will now be lodged in a Home Office account.
Mr McElholm said that the rules of the Christmas jackpot night were unclear and it seemed anyone could simply walk off the street into the game.
He said there was no evidence before him who the 38 players were and how much money they had in the jackpot game.
He said that the poker tournament was clearly illegal under the gaming and lotteries legislation.
Mr McElholm said that in 2006 the police sent a round-robin letter to all establishments which ran such poker nights informing them it was illegal.
He said none of the 38 poker players had taken legal advice before they entered the jackpot game and no compelling case had been made to him in terms of ownership of the jackpot money.