Ecstasy tablets found in Belfast had MTV marked on them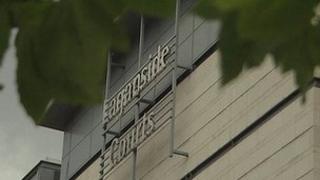 Eight thousand suspected ecstasy tablets seized in Belfast all had MTV marked on them, a court has been told.
The suspected drugs, found after a car was stopped on Sunday, have an estimated street value of £80,000.
It was alleged that a crime gang smuggled them across the Irish border to coincide with the MTV European Music awards in Belfast on 6 November.
Two men, who appeared before Belfast Magistrates' Court over the alleged plot, were both remanded in custody.
Anthony Lowndes, 24, from Grays Park in the city, and Frederick Moore, 43, of Leven Park, Dundonald, are jointly charged with possession with intent to supply and importation of Class A drugs.
Mr Lowndes is also accused of motoring offences, including taking his partner's car without authority.
The pair were arrested on Sunday after police stopped a vehicle at Stockman's Lane in Belfast.
Mr Moore did not seek bail, but a police constable opposed Mr Lowndes' application to be released.
The officer told the court: "We believe Mr Lowndes is part of an organised crime gang involved in the importation and supply of Class A drugs in Northern Ireland.
"In this particular venture he was (allegedly) part of a two-man team going across the border, buying a substantial amount of drugs."
Setting out risks to the public from the suspected ecstasy, he disclosed that the 8,000 tablets were all marked MTV.
The constable referred to how this coincided with the major awards event which is due to take place on 6 November.
"These were going to be distributed fairly swiftly," he added.
Defence solicitor Pat Kelly stressed that Lowndes has admitted no wrongdoing over the drugs.
"He is adamant that he is not guilty of any crime at all," Mr Kelly said.
"He was driving his vehicle... and didn't realise there was any criminality involved at all."
However, District Judge Fiona Bagnall refused his bail application due to the risk of re-offending.
Both men were remanded in custody to appear again by video-link next month.