Decision to lift cap on City Airport passengers quashed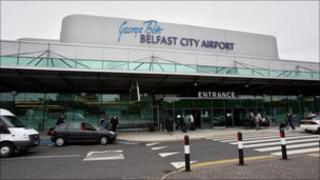 A decision to lift the cap on passenger numbers at George Best Belfast City Airport has been quashed at the High Court.
Limits set at two million seats for sale in any year are to be reinstated.
It follows successful legal challenges against the move, announced by former Environment Minister Edwin Poots.
High Court orders confirming the outcome were made after the department conceded both cases ahead of a scheduled full hearing.
The rival Belfast International Airport (BIA) brought judicial review proceedings against removing the controversial restriction.
It was claimed that the decision announced last December by the then minister was unlawful and failed to take into consideration environmental implications.
A further challenge centred on claims that the seats restriction was lifted without checking whether there was an effective noise control system and an improved noise management system in place at the City Airport.
A residents' group, Belfast City Airport Watch Ltd, also issued similar proceedings against the department.
Court orders now made in the cases have quashed the decision to lift the cap.
As a result the revised planning agreement which removed the restriction has been declared of no force or effect.
'Tightly constrained'
A spokesperson for the airport said that they would "continue to work closely with the department to agree a noise contour and to engage in a process to modify our existing planning agreement."
"Belfast City Airport is one of the most tightly constrained airports in the UK and an important contributor to the local economy.
"It is important that this issue is resolved in a timely manner."
A spokesperson for Belfast International Airport welcomed the High Court decision.
"We feel fully vindicated regarding our concerns about the lawfulness of the previous announcement to remove the restriction," the spokesperson said.
"We also welcome the fact that legal costs will be met by the department. We now look forward to the early enforcement of this restriction by the Planning Service."
The chair of Belfast City Airport Watch's steering group, Dr Liz Fawcett also welcomed the court's decision.
"We are delighted that our case has been vindicated and that the department will now have to reinstate the seats for sale restriction," she said.
"The restriction is an important one for residents because it limits the number of larger, noisier planes which the airport can operate."
Legal costs in both cases are to be paid by the department as part of the settlement.