Village of Beragh badly affected by floods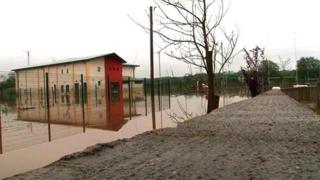 The village of Beragh, County Tyrone was particularly badly affected by the heavy rain on Monday.
The Fire and Rescue Service had to bring 18 people to safety by boats after their homes flooded.
Residents from the Meadows and Riverdale housing developments have been returning to their homes to survey the damage caused after heavy rain caused the Cloughfin River to burst its banks on Monday.
The village's new £1m GAA hall was also submerged in water.
Ger Tracey, chairman of the Beragh Red Knights Club, said it was an awful night for residents of Beragh and for members of the club.
"We've had a close call a number of times since the last major flood in 2008," he said.
"Last night we weren't so lucky, there was an awful deluge of rain from about four o'clock right through until eleven o'clock, it was really, really torrential rain.
"The flood defences in the village - as we have been lobbying and making people aware over this past number of years -just aren't sufficient to hold back that volume of water."
He said the club had had a "worst case scenario" on Monday night when its building was completely flooded.
"We had to evacuate it and leave it with the water trundling into it," he said.
"We invested an awful lot of money in that building in 2006. It is used on a cross-community basis.
"We worked so so hard for a couple of hours last night clearing it out, trying to get everything up to a higher level in the building, but we just couldn't hold back the water."
Young families
Mr Tracey said a proper flood alleviation scheme needed to be put into Beragh "right now".
He called on ministers and MLAs to take a close look at the situation.
A number of houses in the village were also flooded.
John Anderson, a local businessman helped some of the affected residents on Monday night.
"The lower half of the Meadows had to be evacuated," he said.
"Residents moved upstairs in the house but then the Fire and Rescue Service had to come in and evacuate them out in boats.
"The water in the homes could have been up to 18 inches to two feet at one stage flowing through the house."
Hazel Chapman is a resident in the Meadows.
"We were chatting last night and today and we're all of the opinion, or most of us are at the moment, if they bulldozed my house now and gave me the money for it, I'd go and live somewhere else," she said.
For several years, residents have called for a flood wall to protect their homes. They are now looking for alternative accommodation while their houses are repaired.
Group Commander Max Joyce was in charge of the fire and rescue operation in Beragh.
"The community of Beragh itself looked after those who were evacuated and the emergency services," he said.
"They opened up cafes, they were giving tea, giving blankets out and taking strangers into their homes which was magnificent from our point of view."
Mr Anderson said it had been a very distressing time for people living in the development.
"A lot of the residents in the Meadows have young families," he said.
"The Rivers Agency has been looking at this problem in Beragh now for three to four years and haven't come up with anything yet."