Sean Gallagher questioned over alleged Fianna Fail cheque during presidential debate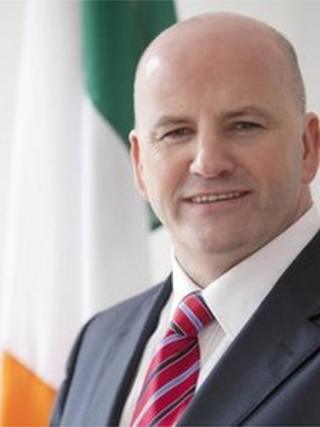 Irish presidential candiate Sean Gallagher has come under pressure over allegations he was given a cheque on behalf of Fianna Fail, during the final presidential television debate.
The claim was made by the Sinn Fein candidate Martin McGuinness.
Mr Gallagher initially claimed he had no recollection of receiving a cheque for 5,000 euros from an individual in Dundalk, County Louth, two years ago.
Mr Gallagher later conceded an envelope may have been handed over.
He said the cheque would have been delivered to Fianna Fail headquarters.
Mr McGuinness raised the issue of the cheque which is thought to have related to a Fianna Fail fundraiser.
He told RTE's Frontline programme: "This gentleman told me there was between 30 and 35 people in the room. He also told me that after the event that Sean called around to his house and took a cheque for 5,000 euros," he said.
Political donation
In response Mr Gallagher said: "What Martin has said is that I drove to the man's house to deliver a photograph of the event and that he gave me a cheque.
"I may well have delivered the photograph, if he gave me an envelope (laughter and jeers from audience).
"The point is, if he gave me the cheque it was made out to Fianna Fail headquarters. (audience heckling). If he gave me the cheque it was made out to Fianna Fail headquarters and it was delivered and that was that."
Mr Gallagher was also questioned about the circumstances of an irregular company loan.
"By the time that the accountant in doing reconcilliation of the account noticed it, they allocated that as a loan," he said.
"I didn't take the money out of the account. The money was in a different account."
Mr McGuinness came under pressure when he was asked by presenter Pat Kenny if those killed in the Troubles could be described as murder victims or collateral damage.
Murder
"There were people on all sides of the conflict - British soldiers, members of the IRA, innocent civilians who lost their lives and I regret the fact that it ever happened in the first place," he said.
There are seven candidates standing in the election.
Senator David Norris and former pop star Dana Rosemary Scallon received last minute backing from local councils to secure their places on the ballot.
They joined independents Sean Gallagher and Mary Davis, Labour's Michael D Higgins, Fine Gael's Gay Mitchell and Sinn Fein's Martin McGuinness.
This is the final day of canvassing for the candidates before a broadcast moratorium comes into effect on Wednesday.
Voters in the Republic of Ireland go the polls on Thursday.
Current president Mary McAleese, the first to have been born in Northern Ireland, is stepping down after 14 years in the post.