Caution urged as flooded Northern Ireland roads reopen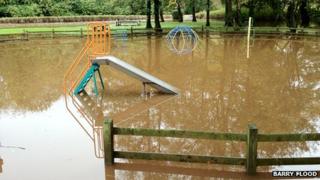 Many Northern Ireland roads have reopened following heavy flooding but the Department of Regional Development is urging drivers to remain cautious.
Agriculture Minister Michelle O'Neill has announced £1m for flood relief for badly-hit areas such as Beragh.
There is still flooding on the railway line between Newry and Belfast, south of Portadown.
Passengers are being taken by bus between the two stations.
Meanwhile, patients have been moved from wards on the Tyrone and Fermanagh Hospital site in Omagh due to the possibility of flooding.
Mrs O'Neill, who has responsibility for rivers, said she had asked her department to take a fresh look at its flood alleviation prevention measures.
"Given that Beragh has flooded once again, I think it's the fourth time it has flooded, we have to reprioritise that," Ms O'Neill said.
"We have set aside £1m for additional flood alleviation measures and Beragh will, obviously, be one of those areas that I think needs to be prioritised."
The move follows flooding in many parts of Northern Ireland since persistent heavy rain on Monday.
The decision to relocate patients from the Tyrone and Fermanagh Hospital site was taken after levels rose in a river which flows through the site.
There has been no flooding of patient areas or administration buildings on the hospital site.
Eighteen people, two of them children, had to be rescued on boats in Beragh, County Tyrone, after a river burst its banks, leaving some residents trapped.
In Strabane, the fire service rescued a disabled man from his home.
At one stage an electricity substation in Newry was on the verge of flooding.
A new £1m pound GAA hall in Beragh has been damaged and several roads and a bridge in the area have been closed.
Near Clogher, a delivery driver had a lucky escape when the road he was driving along disappeared in front of him.
Councillor Allan Rainey witnessed the aftermath of the incident, which happened after a culvert on the Augher Point Road collapsed in the torrential rain.
"The culvert totally washed away and left a crater in the road 15 feet wide and six feet deep," he said.
"A guy in a van had a most miraculous escape - the van was half in, half out (of the crater)."
Several other rivers across the country also burst their banks overnight causing many road closures.
The west and south are the worst affected areas.
Sandbags and pumps
Philip Mehaffey, the head of operations at the Rivers Agency, said: "We sympathise completely with people, there is nothing akin to having your property destroyed.
"But I can assure people that we were well prepared for the flooding event. We had Met Office warnings, we had done everything possible that we could do.
"Training drills, having people available, sandbags and pumps were at the ready but whenever main rivers get out of bank there is little that you can do to stop the water."
Deputy Chief Fire Officer Chris Kerr with the Northern Ireland Fire and Rescue Service said it had responded to dozens of incidents since 18:00 BST on Monday.
"Our crews are working in difficult and in some cases dangerous conditions to rescue those in distress and to minimize the impact on the public," he added.
"I am extremely proud of all those personnel involved in the operation."
Escalating situation
Sion Mills in County Tyrone was also badly hit. Community worker Andy Patton said water engulfed the homes of a number of families and elderly people.
"Some of the residents themselves had to construct water barriers. Some of their front hallways were flooded in," he added.
Environment minister Alex Attwood has said he will make emergency funds available to cover council costs in tackling flood damage.
He said he had been liaising with councils to ensure they were able to cope around the clock if necessary.
"In the event of the weather situation continuing to escalate and households being hit by flooding, I will look at how practical assistance can be offered to ensure properties are made habitable as quickly as possible," he said.
"I will continue to monitor the situation with my officials on an hour-to-hour basis. This is about putting in place the resources at a council level to ensure help is delivered, as soon as possible, on the ground for those severely affected."
Meanwhile a major emergency plan for the Dublin Region is in place following widespread flooding in the city.
One month's worth of rain fell in one day, according to Met Eireann and one of the Irish capital's biggest retail venues, Dundrum Shopping Centre, was forced to close.
In Clady, County Tyrone, 63 piglets were rescued by the Fire Service from a shed on the Bellspark Road.
Homes which have been flooded in the past, were again threatened in parts of Finaghy in south Belfast and Edenduff Terrace in Randalstown, County Antrim.
Several cars had to be towed out of deep water along the A26 Moira Road.
Anyone needing help should contact the flooding emergency incident line on 0300 2000 100.