NI's largest housing association has 'serious issues'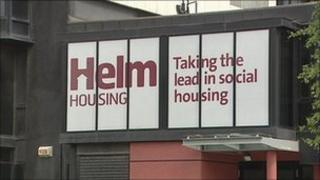 Some "potentially very serious issues" have been identified at Northern Ireland's largest housing association, Helm, according to the Audit Office's annual report.
Auditor General Kieran Donnelly said that until explanations and more information was forthcoming, he could not satisfy himself as to the regularity of the £12.1m in public funds paid to the association last year.
The Department of Social Development (DSD) provided £165m to Northern Ireland's housing associations in 2010 to meet the Stormont Executive's house-building programme.
According to the annual report from the Northern Ireland Audit Office, the DSD became aware last year "of the breakdown of governance within Helm... and had concerns regarding specific building schemes".
The department became aware of these issues through its inspection programme and also as result of whistle-blower disclosures to both the DSD and the Audit Office.
In his report, the auditor general said: "Helm has therefore been the subject of a detailed examination by the Regulatory and Inspection Unit and I have seen a draft copy of their interim report which raises some potentially very serious issues."
He added: "At this point in time I have been unable to obtain all the information and explanations necessary for me to satisfy myself as to the regularity of the £12.1m paid to Helm Housing Association in 2010-11 and I have therefore qualified my opinion in this matter."
In June last year, it emerged that a social housing scheme was built by Helm without planning permission and remained empty long after it was completed.
The apartment block was built on edge of the Gas Works site near the Markets in Belfast at a cost of almost £1m.
Helm Housing Association, which owns the block, claimed construction could begin in 2007, but planning approval had not been granted.