Northern Ireland Executive receives extra £22m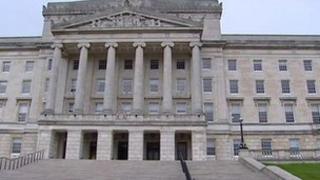 The Northern Ireland Executive has received an extra £22m from the Treasury.
The funds have been spread across departments - helping to pay for road repairs and concessionary bus fares for pensioners.
Finance Minister Sammy Wilson has also redistributed millions of pounds in unspent funds.
Government departments handed back around £75m.
This includes £30m from the Department of Enterprise about half of which was not spent by Invest Northern Ireland.
An additional £10m has been allocated towards an affordable housing scheme for first-time buyers.
The finance minister said this was good news for construction sector.
About £25m has gone to health - £10m for equipment and specialist drugs and a further £15m to pay for redundancies for non-essential staff.
The minister also said that following an internal PEDU (efficiency) review there was not a sufficient case for top-slicing money from other departments and give it to health.
The Department of Regional Development has been given around £13m, mostly for road improvements and £3m to maintain concessionary fares.
The Department of Employment and Learning has received £5m for the Steps to Work programme, although it had sought £9m for this scheme.
It's also emerged that administration costs across all departments have reduced by around 2.5%, generating savings of around £14m.
OFM/DFM handed back around £7m which was originally allocated for the Social Investment Fund. It is still being consulted upon.
No bids were made to tackle fuel poverty, said a finance official, when asked about the issue.
The money from the Treasury has been made available as council tax has been frozen in England.