Irvinestown Milk Bank appeals for new mums to donate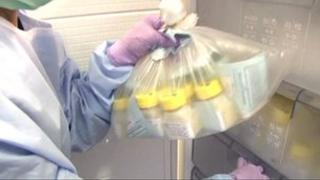 A service that provides breast milk for premature and seriously-ill babies has appealed for new mothers to help.
Supplies have been hit because with people under financial pressures, many women who would have been donors have returned to work sooner.
The Human Milk Bank in Irvinestown helps babies in neo-natal units across Ireland by supplying donated breast milk to babies who cannot be fed by their own mothers.
The centre is run by Anne McCrea.
"It actually can make the difference between life and death for them," she said.
"We've got one little child at present that is being fed by a bag into its abdomen and the human milk is being kept and used to help protect that child's liver so that child is actually doing very well at present."
She said the milk bank was helping lots of babies in neo-natal units, some of whom were very premature.
Intensive care
"One baby we're helping, the mother has cancer and is unfit at present to look after the baby. The baby was delivered very, very prematurely," she said.
"We've got another mum who has actually been involved in a car accident and she is having donor milk for her baby because she is in intensive care still.
"We've got several babies who are having heart surgery that we're actually helping them through the heart surgery because they have less problems with infection and bleeding and all the drugs that get used for heart surgery babies work much much better when they're on human milk because it is light and it is easy to digest."
The centre has three tall freezers to store the milk but all the drawers are completely empty.
"At this time of year, this is when all the mums start to go into premature labour," she said.
"We find that the need for donor milk from this time onwards just starts to escalate as we head towards Christmas and the season where all the mums go down with flu."
Shortage
Ms McCrea said by December they needed to be able to provide about a 100 litres of donated milk to "the babies in the premature baby unit, the babies having heart surgery and the babies that are having gut surgery".
"We just don't have the stocks of milk to help those babies that are going to be born in a few weeks' time," she warned.
Any mum donating milk is asked to provide a minimum of three litres.
She said many mothers were returning to work sooner than before.
"We've had lots of mums that have given us the minimum donation of three litres because lots of mums are having to go back to work in this financial climate much, much earlier because very often they could be the main breadwinner in the house," she said.
Jackie Nelson from Lisbellaw is the mother of six-month-old Lily. She decided to donate some of her milk as a thankyou.
"Lily was born 7 April and she was born with erratic breathing and she went to the neo-natal unit and she had a bit of donor milk in the neo-natal unit," she said.
"Hence the reason I would like to give a little bit back as well."
Ruth Moore from Maguiresbridge, is mum to five-month-old James.
She has also decided to donate to the milk bank.
"The satisfaction that you're helping somebody else that maybe has got into difficulties and can't feed their own babies, I know that feeding your own baby is a bit of a struggle at the start to get used to it, so if you can help somebody until they get established or get over an illness, it would be brilliant," she said.
So far this year, donors have helped more than 400 babies, including 35 sets of twins and six sets of triplets.