How stem cells could help save Hannah's life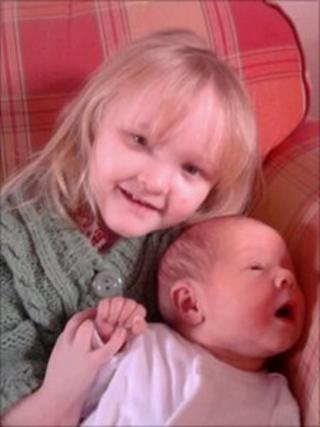 Hannah Gillespie was diagnosed with Fanconi anaemia, a serious genetic disorder which means she could die before reaching adulthood.
Her family hope that she can be treated and saved by the stem cells from her younger sister's umbilical cord.
The stem cells from baby Zoe are in storage to be used in a future transplant, but Hannah's not ready for the transplant yet.
"Hannah's problems were evident from birth," said her mother Sasha.
"She was born with no thumbs and radial bones so the doctor's knew very quickly to look for Fanconi anaemia being one of the conditions they were looking for.
"They found that she had three holes in her heart, dislocated hips, a single pelvic kidney and haematology problems to follow which means that her blood counts are low."
Despite her health problems Hannah attends Fleming Fulton School.
"Hannah is in P2, she absolutely loves life, loves her friends, school, her homework," said Sasha.
'Exceptional'
"She had a bone marrow biopsy a couple of weeks ago and came home from school after her anaesthetic a little bit sore and still said 'what have I got for homework'.
"She just gets on with things, she is just exceptional.
"She has had a hard time, she had massive hip surgery in May and now has learnt to walk again over the summer. Her hips are plated and pinned.
"It has been an uphill struggle for her but she has done well."
Although Hannah's mum's only chance of saving her daughter was by conceiving again through IVF, Sasha stresses that the family was keen to have another baby anyway.
"We're fortunate enough to have gone through IVF to have had a healthy daughter, Zoe, who is almost one, and her cord blood was saved at birth so the stem cells have been frozen and are ready for Hannah," she said.
"Hannah still has a lot ahead of her and transplant is still the last option, they'll not rush into it. They will let her go as long as she can go without it.
Controversy
"They do regular bone marrow biopsies and blood counts and she is very well managed in the hospital and she's very well managed by her doctor, Dr Stewart in Bristol, so we just really have to take it from Hannah."
Sasha said the family is aware that the use of stem cells is viewed by some as controversial.
"I think there is a distinction between stem cells that are from cord blood and stem cells that are used from embryos, but this is totally different from that," she said.
"This is stem cells used from umbilical cord blood which would otherwise have been discarded at birth and you can actually donate your cord blood at birth in the Royal Victoria and Mater Hospitals, so it can be used for other people.
"You can donate them through Northern Ireland Blood Transfusion, so if you are pregnant you can think about it."
Sasha said the family found it tough especially after Hannah was first diagnosed.
"It was a big shock and every week it seemed to be something else and something else, the whole thing about Fanconi's is even if they are lucky enough to survive transplant then they're faced with cancers in the future," she said.
"Every time we heard another bit of information, it was another massive thing to understand and to try and get on with but life does go on and Hannah's life does goes on, and for Hannah, we keep life normal, that's what Hannah needs.
"Our family is very normal. We've got Hannah, Ryan and Zoe and it's just a normal household where they fight and bicker, all the usual things."