Vigil held for victim of fatal Belfast assault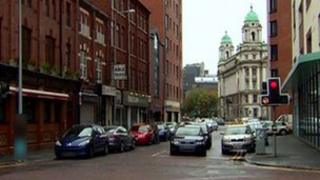 A vigil has been held to remember a man who died on Monday after being attacked close to Belfast city centre at the weekend.
Joe O'Neill, 60, from Brook Park in Andersonstown, was assaulted in the early hours of Sunday. Police have launched a murder investigation.
About 100 people gathered for the vigil outside the bar where he worked.
A 34-year-old man has been charged with grievous bodily harm in connection with the assault.
Mr O'Neill was involved in a row with two men at a taxi rank in King Street.
He was then attacked nearby at about 01:15 BST on Sunday and suffered head injuries. He died later in hospital.
Up to 100 people attended the vigil and prayers were said by Fr Michael Murtagh from Clonard Monastery.
Sinn Fein councillor Matt Garrett, who knew Mr O'Neill, said his death was "an absolute tragedy".
"Joe was a neighbour, he was a friend and his family are lovely," he said.
"He had two young children - teenagers - and they're absolutely devastated by what has happened."
Police have appealed for anyone with information about the incident to contact them.