Linn Duchaill: Ireland's unlikely Viking capital
By Conor Macauley
BBC Newsline reporter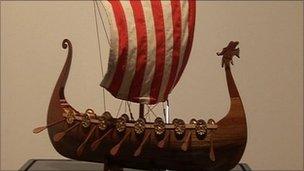 A windswept barley field just south of Dundalk seems an unlikely spot for Ireland's capital.
But if things had been different, Annagassan near Castlebellingham might have been the principal city on the island of Ireland.
Twelve hundred years ago it was the site of Linn Duchaill, one of the first Viking settlements, which rivalled Dublin in size and importance.
Folklore said it was there, but all traces of it had disappeared, until a group of archaeologists and local historians set out to prove its existence.
Extensive field research and test digs have now done that.
What they found was a huge fortified settlement up to 150 acres in size, established by 841AD where the Vikings built and repaired their ships, traded and raided into the surrounding countryside.
Artist and historian Micheál McKeown was one of those who carried out extensive field research.
He said the Vikings sailed their ships about a mile upstream in the River Glyde, then built a heavily defended position by digging a long trench between the river and the Irish Sea, to completely cut themselves off.
"Dublin developed more as a trading town, this appeared to be more of a raiding town," he said.
"From here they attacked inland, they flattened all the monasteries in County Louth, they went to Armagh three times in one year, they went as far as the Shannon, deep into Longford.
"So there had to be a great amount of Vikings here. I would estimate four or five thousand Vikings here with up to 200 ships."
Test trenches were dug at the site in August last year and a host of items were found.
They included ships rivets, off-cuts of silver, which the Vikings used as currency, and a tiny weighing scale.
Those are now on show at an exhibition in Dundalk's Louth County Museum, along with other items recovered years ago in the same area, including a slave chain, and an axe head - all of Viking vintage.
Around 70 people gathered there over the weekend for a two day conference to discuss the significance of the finds at the Annagassan site.
Among them was Ned Kelly, the keeper of Irish antiquities at the National Museum of Ireland, one of those who helped uncover the settlement.
"There's been a bit of a mystery about where exactly the site was located or what exactly the site consisted of, and antiquarians and historians and archaeologists have been trying to sort that mystery since about 1750.
"We've now absolutely confirmed the location and nature of the site. It's a very large site. It's one of the earliest sites, there's only one earlier site in Lough Neagh.
"Sites of this nature by virtue of the fact that the Vikings were an international phenomenon, are of international importance.
"This is a site that has the potential to tell us an awful lot about the early activities of the Vikings in Ireland. This is the phase prior to the establishment of towns like Dublin and Wexford.
"The site is well preserved, it's very big and the trial cuttings we put in last September show us that there's a great depth of archaeological deposits, so there's an enormous amount we can learn about early Viking settlement in Ireland."
Linn Duachaill was eventually abandoned in favour of Dublin.
Experts believe that was because Dundalk Bay is shallow and access to the Glyde River was dependant on the tides, which effectively meant the Vikings were stranded upstream twice a day.
That left them and their ships vulnerable to attack and it became too big of a risk.