Northern Ireland floods cause transport havoc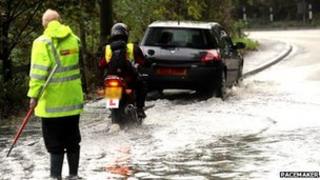 Environment Minister Alex Attwood has pledged to help home-owners whose properties are flooded during the current bad weather.
Heavy rain has caused flooding and problems for drivers in various parts of Northern Ireland.
The Belfast to Dublin Enterprise train service was suspended due to flooding at Clontarf in north County Dublin.
Roads were closed as rivers overflowed their banks with vehicles having to be towed from the flood water.
Mr Attwood said he was making emergency funds available to cover council costs in tackling flood damage.
Police have warned drivers in Ards, north Down, Castlereagh and Downpatrick to take care on the roads on Monday due to the severe weather.
Mr Attwood said he had been liaising with councils to ensure they were able to cope around the clock if necessary.
"In the event of the weather situation continuing to escalate and households being hit by flooding, I will look at how practical assistance can be offered to ensure properties are made habitable as quickly as possible," he said.
"I will continue to monitor the situation with my officials on an hour-to-hour basis. This is about putting in place the resources at a council level to ensure help is delivered, as soon as possible, on the ground for those severely affected."
The worst-hit areas include Ballyclare, Cushendall and north and west Belfast.
There were reports of localised flooding in Banbridge, Carnlough, Lurgan and Moira.
In Antrim, floodwater caused some damage to a care home on Station Road on Sunday afternoon.
Homes which have been flooded in the past, were again threatened in parts of Finaghy in south Belfast and Edenduff Terrace in Randalstown, County Antrim.
Several cars had to be towed out of deep water along the A26 Moira Road.
There has also been heavy flooding at the Glenriver estate in Glenavy, County Antrim and on the Keady road on the Armagh side of Beechill.
Flooding on the Hillhall Road brought traffic heading towards Lisburn to a standstill.
The main Omagh to Plumbridge road in County Tyrone is flooded and there are long delays on the main A6 Derry to Belfast road outside Maghera.
Weather and climate expert Philip Eden said the current weather systems bringing the rain were taking longer to move on.
"Our rain-bearing systems come from the Atlantic and normally, when the winds are westerly, these systems last three to four hours," he said.
"However, this October there has been an absence of westerly winds which means that weather systems moving in from the Atlantic are slow-moving.
"As a result, these systems are lasting 24-36 hours, bringing sustained periods of heavy rain.
"Does this have anything to do with climate change? The lack of ice in the Arctic at the end of the summer may have contributed to the absence of westerly winds."
Anyone needing help should contact the flooding emergency incident line on 0300 2000 100.