Stormont minister McCausland hits out at Rihanna video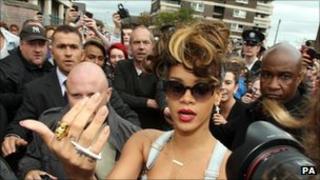 Social Development Minister Nelson McCausland has hit out at Rihanna for suggesting that north Belfast is "a hopeless place".
The video for Rihanna's number one single We Found Love was filmed in parts of Northern Ireland, including a field in Bangor in County Down and the New Lodge Road area of Belfast.
Mr McCausland wrote on his blog: "Apparently much of it involves her singing 'I found love in a hopeless place'.
"This is set against a background of drugs, alcohol and gambling, interspersed with shots of the New Lodge flats and views of the general area.
"A hopeless place? Fortunately most people who see the video will have no idea where it was filmed."
Mr McCausland's hopes may be dashed, as this is one video shoot which has received more publicity than most.
His DUP colleague Alan Graham was at the centre of a worldwide media storm after he called for filming in his field to stop.
The councillor and farmer was fetching his tractor when he saw Rihanna and thought her topless appearance was "inappropriate".
Now Mr McCausland, who is the minister in charge of social housing in Northern Ireland, has leapt to the defence of the area which he represents at Stormont.
"Crowds of local people flocked round her during her time in the area," he said.
"They were excited and delighted about her visit to the New Lodge but I wonder what their reaction is now that the video is out?"