Protesters picket Derry policing partnership meeting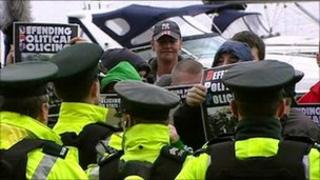 Up to 25 protesters have attempted to gain access to a District Policing Partnership meeting in Londonderry.
They were stopped by a line of police at the entrance to Derry City Council's Strand Road offices where the meeting took place on Thursday.
An official told the protesters, who held anti-policing posters and chanted and blew whistles, that there was no room to accommodate them.
The stand-off continued for about an hour before the protesters dispersed.
There have been a series of protests at District Policing Partnership meetings in the city.