John O'Dowd urges police ombudsman to resign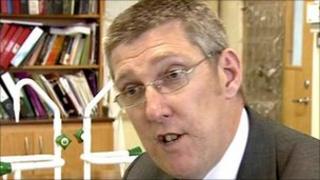 Deputy First Minister John O'Dowd has called on Police Ombudsman Al Hutchinson to resign immediately.
He was echoing a call made by the former chief executive of the ombudsman's office, Sam Pollock, in a BBC Spotlight documentary on Tuesday.
The programme revealed details of tensions within the office which led to Mr Pollock's resignation.
Mr O'Dowd revealed he had discussions about Mr Hutchinson's future with First Minister Peter Robinson on Wednesday.
Mr Hutchinson has already said that he will leave his role next June.
The Office of the First and Deputy First Minister has the power to dismiss him, but Mr O'Dowd said Mr Hutchinson should pre-empt such a move by going at once.
"Al Hutchinson no longer has any positive role to play in reshaping policing in this society," he said.
"Every day he remains in office he is damaging the credibility of a very important part to the new beginning to policing in this society."
Mr O'Dowd said he would be having further discussions with Mr Robinson on Thursday.
Mr Hutchinson's predecessor as Police Ombudsman, Baroness Nuala O'Loan was also critical of the performance of the office but did not go as far as calling for his resignation.
"I think that is a matter for Mr Hutchison and the Office of the First and Deputy First Minister," she said.
"What I am really, really concerned about is how do you get the office back running as an efficient, independent, civilian, oversight body for policing in Northern Ireland?
"I think the question is how do we solve the problem quickly, what would enable the office to get up and running again and I think the ombudsman will be thinking about those things very seriously tonight."
'Fix it quickly'
Mr Pollock resigned in April because he had lost confidence in the direction and independence of the office.
He held his post for over 10 years.
Mr Hutchinson has confirmed that he will step down next year, earlier than planned, but Mr Pollock told the BBC's Spotlight programme that he should go now.
"Until recently I had urged Mr Hutchinson to fix what was wrong and to fix it quickly," he said.
"I'd even urged the minister to support the Police Ombudsman in ensuring that it was fixed quickly.
"Now I feel let down by so much of what's happened, I would have to say on a personal level and on a professional level, I think he should resign."
In a letter explaining his decision to quit his £90,000 a year job, Mr Pollock claimed that there had been political interference in the work of the office, and a lowering of operational independence between it and the PSNI.
'Conflict'
He told the Spotlight programme why he felt he had to leave his job.
"I sensed, in the end, a dilemma, or a conflict, in terms of dealing with the whole issue of informants," said Mr Pollock.
"To speak about the involvement of an informant either directly or indirectly in murder, the loss of life, some atrocities, you cannot fudge that."
The programme also uncovered failings in a number of investigations by the ombudsman.
Mr Hutchinson rejected claims that his office has gone soft on the police.
"I can assure everybody that we do deliver independent, impartial, evidence-based reports," said Mr Hutchinson.
"And whether that is perceived by the public or is not is certainly a matter of debate."
'Robust model'
On Wednesday, a spokesman for the ombudsman's office said: "Following the broadcast of last night's television programme, a number of families who had made complaints to us about cases involving deaths during the Troubles left letters into our offices this morning.
"Their concerns largely go to the issue of confidence in our ability to investigate matters from the past.
"We are working to revise our procedures in this area."
In September, a report by the CJI said the office's operational independence had been lowered, and that Mr Hutchinson had lost the trust of senior colleagues.
It was the third highly critical report to be published into the work of the organisation.