Nama takes over Newtownards development loans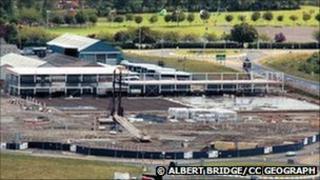 The company planning a major re-development of Newtownards has confirmed its bank loans have been taken over by the Irish government's National Asset Management Agency (Nama).
The details are contained in the accounts of Castlebawn Ltd, which lost more than £10m in 2010.
Castlebawn is a joint venture between Eastwood Property and R&A Developments.
The Castlebawn project promised to re-develop a 75-acre site in the town.
The development stretches from the town centre to the edge of Newtownards airfield.
Castlebawn's accounts also state that there is "significant doubt" about the firm's ability to continue as a going concern.
Ultimately it should consist of an 800,000 sq ft shopping centre and retail park.
Parts of the scheme have already been delivered: a Tesco supermarket and a link road.
However, the substantive part of the scheme is the subject of a public inquiry by the Planning Appeals Commission.
The land for the scheme was acquired using loans from Anglo Irish Bank and it is those loans which have been moved into Nama.
The accounts state that total bank borrowings stand at £18.7m. The borrowings were reduced over the year from £35.4m due to the sale of a site.
Some of those loans have been personally guaranteed by the Castlebawn owners; BJ Eastwood has given a guarantee of £11.25m while Adam Armstrong and William Rush have also given a joint guarantee of £11.25m.
In common with all firms who have had loans taken over by Nama, Castlebawn has submitted a detailed business plan to the agency.
The firm said that plan is "the only way that debt exposure can be minimised" and if Nama does not accept the plan then the firm would find it difficult to remain in business.
However, the directors said they have a "reasonable expectation" that the firm has adequate resources to keep operating in the foreseeable future.
In a statement the directors said:"We remain very upbeat about the project - the £5m which we spent on a new road line in Newtownards is to the benefit of everyone in the area and it facilitated the new Tesco Extra store, with around 300 new jobs, which opened its doors recently.
"We continue to pursue commercially viable planning permissions which will deliver much needed employment as well as a substantial regeneration of the existing town."
Nama buys and manages property loans which were made by Dublin-based banks.
It was set up by the Irish government in an attempt to save the country's ailing banks.
The agency is sometimes referred to as a "bad bank" but it takes over "good" loans, which are being repaid, as well as bad loans.
It has taken over around £3.5bn of property loans in Northern Ireland.