Belfast 'ghostbusters' request City Hall investigation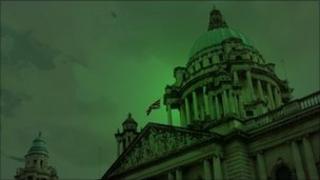 A group which looks for signs of "paranormal activity" has sought permission to carry out an investigation of Belfast City Hall.
The North Belfast Paranormal Research Group was formed in February 2011 and has 12 members.
It has already investigated Ballygally Castle and Grace Neill's pub in Donaghadee which is said to be the oldest pub in Ireland.
City Hall officials have asked councillors to rule on the application.
Council minutes reveal that the investigation would involve the group coming into the City Hall on an agreed evening between 21:00 and 04:30.
"Ideally, the buildings would need to be empty of people and it may be necessary to shut down as many of the mechanical and electrical systems as possible," the minutes continue.
"The group would bring in a range of hand-held equipment into the building including temperature gauges and meters, voice and white noise recorders and CCTV monitors."
The minutes add that the group are "aware of the sensitivities around using the City Hall" and "as a result the group is content to have nothing publicised following their visit, although they do stress that a good news story could be run if it suited Belfast City Council."
"There remains however a risk to the reputation and prestige of City Hall depending on how the media react to this type of event."