Alex Attwood to launch SDLP leadership bid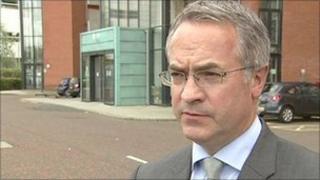 SDLP leadership contender Alex Attwood has said there is a "major opportunity ahead" for the party.
The environment minister will launch his campaign at the Stormont Hotel on Tuesday afternoon.
Speaking ahead of the launch, he said he had a "substantial record of delivery" in the political arena.
"I believe that I have been tested and proven and I have the authority, toughness, judgement and creativity to lead the SDLP forward," he said.
Mr Attwood said the party's political opponents appeared to be in charge, but did not know what to do on "either building a shared society or delivering the economic progress that is so desperately needed."
"The road ahead for the next party leader is about much more than restructuring and reorganising the party.
"It is about reasserting the very political authority of the SDLP, so that we can complete the unfinished work of a new north and the unfulfilled vision of a new Ireland."
Mr Attwood is up against Alasdair McDonnell, Patsy McGlone and Conall McDevitt in the leadership contest which will take place at the party conference in November.