Snow Patrol set for City Hall gig for MTV awards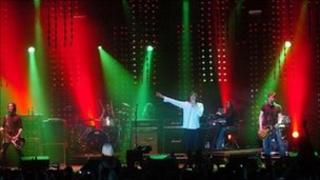 Snow Patrol are to perform at a concert at Belfast City Hall on the night MTV's Europe Music Awards (EMA) will be hosted by the city.
Tickets for the gig will be free and available from the Belfast Welcome Centre from 8am on Sunday 16 October on a first-come, first-served basis.
Fifteen thousand fans are expected to see the Bangor band.
The performance will be beamed live into the 2011 MTV EMA taking place simultaneously at the Odyssey Arena.
The band said of the concert: "We're really looking forward to performing for the EMAs at such a special location on home-turf.
"It's going to be a great night and a lot of fun."
Joining them at City Hall will be chart-topping US singer-songwriter Jason Derulo.
His performance will feature in the Red Carpet Live which will be broadcast on MTV as anticipation builds for the awards.
US rock trio Boyce Avenue will open the event, which will take place from 6pm - 9:30pm (doors open at 5pm).
Jason Derulo said he was honoured to be taking part.
"I am also very excited to perform for my Irish fans and visit Belfast for the first time," he said.
Tickets will be restricted to four per person and available to over 16s only (proof of age will be required). They will only be issued for under 16s if accompanied by an adult.
Tickets will also be available from www.gotobelfast.com or by telephoning 028 90246609 from 8am on Sunday 16 October.
The event in the Odyssey will be headlined by one of the world's biggest bands, Coldplay.
Also gracing the stage will be Jessie J, who has racked up Number 1 hits in 18 markets worldwide in the past year.
Los Angeles based LMFAO, famous for the hit Party Rock Anthem will also make their debut at the European Music Awards.
They will join the Red Hot Chili Peppers at the event on 6 November.
The show will be broadcast live from the Odyssey arena on MTV on Sunday, 6 November.
Belfast City Council and the NI Tourist Board have already contributed almost £900,000 towards the event which, the council said, could generate more than £10m for Northern Ireland.