Historic Derry Walls to be protected by wardens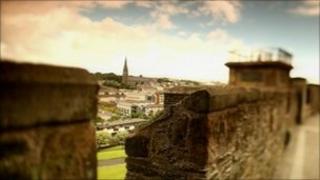 The Environment Minister Alex Attwood has announced the appointment of wardens to protect the Derry Walls.
The walls were built in the early 17th Century as defences for early settlers from England and Scotland.
They have become one of the city's biggest tourist attractions and are visited by thousands of people every year.
However, there have been sectarian disturbances and vandalism on the walls over the years.
Speaking during a visit to the walls to launch the Derry City Walls Gazetteer, the minister said: "The establishment of formal wardens for the monument has become possible through cooperation with Derry City Council and the City Centre Initiative.
"The existing city centre rangers, who have developed such a role informally over recent years, will now be fully supported by the Northern Ireland Environment Agency to carry out and expand this work.
"With increasing numbers of tourists visiting the monument, it is important that they receive a good welcome and that any incidents of vandalism or damage are resolved quickly and effectively.
"The wardens will work to ensure this is the case and that this iconic and historic monument is looked after for tourists and locals alike."