Retired police officer at Jennifer Cardy murder trial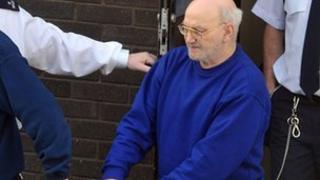 A retired Scottish police officer, who led the investigation which saw Robert Black jailed for three child murders, has been giving evidence at the Jennifer Cardy murder trial.
Roger Orr said Black had been caught red-handed abducting a six-year-old girl in the Scottish borders in 1990.
The child had also been sexually assaulted.
Black is accused of abducting and murdering nine-year-old Jennifer near her home in Ballinderry in 1981.
The retired detective chief superintendent told the court that Black had been spotted bundling the little girl into his van in the village of Stow.
Although retired, Mr Orr said he keeps "an interest and active involvement" in Black's case, and recalled how the girl later described the moment Black snatched her.
With Jennifer's parents listening from the public gallery, he said the little girl - who still cannot be named to protect her identity - told them (the police) how Black had blocked her path by standing beside the open passenger door of his van.
'Bad man'
She told the police how she had tried to squeeze past.
She said: "He was not looking at me then, but then he looked at me. I didn't know then that he was a bad man. He said sorry for blocking my way, but then he grabbed me round the waist, bent me over and pushed me under the chair of his van."
The little girl was rescued a short time later.
She was found bound and gagged and had been abused by Black.
Mr Orr said a subsequent search of Black's van and home found items of children's clothing, pornography, some of it spliced with photographs of children, implements of a sexual nature and various items that could be used as restraints.
He also revealed that Black had a criminal record for abusing girls dating back as far as 1963 when, as a 16-year-old, he abused and rendered unconscious a seven-year-old girl in a disused air shelter near his then home in Greenock near Glasgow.
When he was 19, he was convicted of indecently assaulting the young daughter of the family he lodged with.
Disappearance
Mr Orr also told the court that Black had started working as a driver for the company PDS in 1976.
It was this job which brought him to Northern Ireland on 12 August 1981, the day Jennifer Cardy went missing from her home in Ballinderry.
After being caught in 1990, Black was subsequently convicted of three murders - that of Susan Maxwell, 11, in 1982, Caroline Hogg, five, in 1983 and 10-year-old Sarah Harper in 1986.
In distressing evidence, Mr Orr outlined the details of each of these.
The prosecution said many of those details amount to a 'signature' for Robert Black and that the case of Jennifer also bears that 'signature'.
The 64-year-old denies her murder.