Pat Finucane's family shocked by government's "change of mind"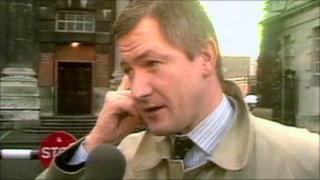 A son of murdered solicitor Pat Finucane has said that his family does not understand what led the government to "change its mind" over an inquiry into the killing.
Mr Finucane was shot in 1989 by loyalist paramilitaries at his north Belfast home.
Michael Finucane said they had met officials to discuss a particular type of inquiry - but that was ruled out at a Downing Street meeting on Monday.
He said his family was still in shock.
The Prime Minister has announced that rather than an independent public inquiry, a review of the papers relating to the murder will be carried out, led by a leading lawyer
Speaking on Good Morning Ulster, Mr Finucane said the family had been genuinely shocked by what they saw as a change of mind by the government.
"Yesterday was a very disappointing day," he said.
"I think the more the dust settles, I think people's reaction to it will show the British government that this is not something that will wash with my family or anyone else."
Mr Finucane said that his family had met privately and publicly with officials to discuss a possible inquiry.
Apology
"Models were discussed - a particular mechanism, a particular example of an inquiry that we felt had been agreeable to us had been put on the table and discussed at some length," he said.
"So when the Prime Minister announced the review we were genuinely shocked."
Mr Finucane reiterated the family's position that they would continue their campaign for an independent public inquiry and would not participate in the review.
When he was prime minister, Tony Blair agreed to set up an inquiry, but a fresh investigation was never established.
Before the meeting on Tuesday, the government said they hoped the Finucane family would be satisfied with their response.
A statement on behalf of Mr Cameron said: "The prime minister expressed his profound sympathy for the family and said it was clear from (the) Stevens and Corey (inquiries) that state collusion had taken place in Mr Finucane's murder and he accepted these conclusions.
"On behalf of the government he apologised to the family.
"He confirmed that the government's priority was to get to the truth in the best and most effective way and the secretary of state will set out the details for this process shortly."
In 2004, the then Northern Ireland Secretary of State Paul Murphy announced his intention to hold an inquiry under the new Inquiries Act.
The Finucane family are opposed to the probe being held under this legislation, which they say makes the inquiry accountable to the minister responsible, rather than to parliament.