Nama repossesses freeholds for five Belfast pubs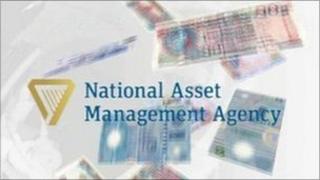 The Irish government's National Assets Management Agency (Nama) has effectively repossessed some of Belfast's best known pubs.
Nama has appointed an administrator to two companies, Lanyon Trading and Lisk, controlled by two Co Clare businessmen.
Those companies owned the freeholds of The Bot, The Kings Head, Madison's, The Globe and The Northern Whig and leased them to Botanic Inns.
The move does not affect Botanic Inns. All the bars are operating as normal.
In a statement the company said: "Botanic Inns' group of licensed premises is unaffected by the recent administration of Lanyon Trading Ltd and, its parent company, Lisk Ltd which owns five Belfast based freehold properties."
In effect Botanic Inns is now leasing the bars from Nama, rather than the two insolvent companies.
Land Registry documents show that Lisk leased The Bot, Madison's, The Globe and the Northern Whig to Botanic Inns for a 25-year term beginning in April 2005. The King's Head was leased for the same period by Lanyon Trading.
Anglo Irish Bank mortgages were registered on each of the premises.
Lanyon Trading and Lisk were controlled by Sean Lyne and Noel Connellan who are both based in Ennis.
Multi-million pound deals
Mr Lyne has a background in the hotel industry while Mr Connellan is a former accountant.
The two were active in property development and investment throughout the property boom participating in a series of multi-million pound deals, including the takeover of Botanic Inns in 2004.
A later deal saw the business sold to Botanic Inns management with the two men continuing to own some of the pubs and leasing them out.
In common with many developers, they have been under increasing pressure as a result of the property crash.
In May both men consented to a 19.5m euro judgment order against them over unpaid loans from Zurich Bank.
They borrowed the money to buy sites in County Cavan however the money was not repaid on the due date leading the bank to take legal action.
Another bank, ACC, is pursuing the two men for 22m euros it says it is owed in relation to money lent to buy property in Clare.
Nama has taken control of virtually all land and development loans which were advanced by the Dublin-based banks, including £3.5bn of property loans in Northern Ireland
In some cases it has taken "enforcement action" on these loans by placing the related properties into receivership or administration.
Loans which have been taken over by Nama, but which have not been subject to enforcement action, remain confidential although some details are emerging in the accounts of property firms.