Examiner investigates claims of plagiarism against columnist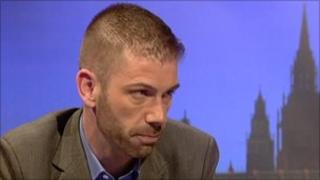 The Irish Examiner is investigating allegations of plagiarism against one of its columnists.
Steven King, a former personal advisor to David Trimble, writes a weekly column on international affairs.
It is alleged he copied large sections of a recent column from a speech delivered by Brendan O'Neill last year.
The Examiner's editor Tim Vaughan called it a "very serious issue" and said he was awaiting a response from Mr King.
On Twitter, Mr Vaughan promised to investigate the allegations.
"We are looking into claims that opinion columns by Steven King contained plagiarised material."
Mr King was a special advisor to the Ulster Unionist leader during the 1990s in the run-up to the signing of the historic Good Friday Agreement. His column has been "discontinued".
The BBC has tried but has been unable to make contact with Mr King.
The column in question is from 21 September and was on the topic of the world's population reaching seven billion.
It appeared to use sections from a speech given by Mr O'Neill, who is the editor of journalism website Spiked Online.
The similarity was discovered by journalist Brian Whelan who then found several other likenesses between Mr King's columns and work earlier written by Mr O'Neill.
Mr Whelan was involved in the high profile exposing of Independent columnist Johann Hari, who admitted copying quotes in some of his articles.
Hari has been stripped of his 2008 Orwell Prize and has been suspended by the Independent.