Gerry Armstrong claims teen footballers 'tapped up' for Republic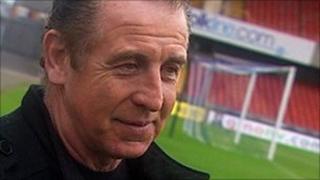 Northern Ireland football legend Gerry Armstrong has claimed there is evidence that teenage players from the country are being approached to play for the Republic of Ireland.
Last year, the Court of Arbitration for Sport ruled against the Irish FA's bid to prevent more Northern Ireland-born players opting for the Republic.
Mr Armstrong said players as young as 15 were being approached.
The Football Association of Ireland (FAI) said it had not been involved.
"We have never approached a player at all, especially not a player as young as 15," an FAI spokesperson said.
"It is a person's prerogative if they want to play for the Republic of Ireland
"There is not an ongoing campaign by the FAI to recruit Northern Ireland players, but it is an option if they want to make themselves available for selection."
The FAI spokesperson said the Court of Arbitration for Sport ruling had established that it was the right of players from Northern Ireland to represent either of the national teams on the island of Ireland.
Mr Armstrong first made the claim in the Radio Ulster documentary Does the cap fit on Sunday.
On Monday, he said the "tapping up" of Northern Ireland youngsters was becoming a moral issue.
"I think it is a problem because at 15 or 16, kids should be allowed to get on with their football and enjoy their football without another added pressure from a political point of view," he said.
"If you are born in part of Northern Ireland that is your country of birth and usually, under FIFA or UEFA rules, that would be the country you would play for.
"Because of the Good Friday Agreement if you are born in Northern Ireland you can play for Northern Ireland or you can play for the Republic of Ireland."
The former Northern Ireland assistant manager said he had to clarify whether the approaches to teenage footballers were being made by the Football Association of Ireland.
In recent times, several Northern Ireland-born players have switched allegiance south of the border.
These include Manchester United's Darron Gibson, Stoke's Marc Wilson and Preston North End's Daniel Devine.
They have taken advantage of a Fifa ruling that allows players from the island of Ireland to choose which national side they represent providing they have not played for the other in a competitive senior international.
The Good Friday Agreement of 1998 provided for Northern Ireland-born people to claim either British or Irish nationality.
'Financial resources'
The Republic of Ireland is currently more than 40 places ahead of Northern Ireland in the FIFA world rankings.
Mr Armstrong, who was recently appointed as the Irish Football Association's elite player mentor, said this along with the Republic's "better financial resources" could sway a teenager to switch allegiance.
"I have looked at the situation and we have players at 17 and 18 who have decided they wanted to go and play for the Republic of Ireland because they thought that was who they wanted to play for and they have reversed that decision 18 or 20 months later," he added.
"They have come back and said 'It didn't work out I'm not happy' and all the other issues that go with it.
"My point is that if they do get someone at 15 or 16 to play for the Republic and he decides that's what he wants to do, two or three years down the line maybe he is not selected for the Republic and thinks I could have played for Northern Ireland.
"They are left with egg on their face."
Irish football writer Cathal Dervan said he was not aware of any 15 or 16-year-old footballers from Northern Ireland being "poached" by the Republic of Ireland.
He also said "there was not a huge amount of money in football" in the Republic of Ireland.
He added that some people in Northern Ireland did not "feel comfortable" representing its football team.
"I don't see Football Association of Ireland (FAI) coaches at the side of matches in Derry, Limavady or any of those places," he said.
"The bottom line is if a person is good enough to get into the Republic of Ireland team, (coach) Giovanni Trappatoni will play him. It doesn't matter if he was born in Glasgow, Limavady, Coleraine, Ballymena or wherever.
"The Irish Football Association (IFA) have to accept this.
"This is legal, there is nothing illegal here in what the FAI are doing.
"The IFA have got to accept they are not bigger than the Good Friday Agreement."