Derry to Coleraine rail line to receive A5 road funding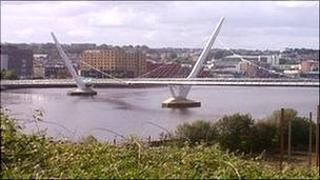 Work on the rail line between Coleraine and Londonderry is to begin sooner than planned, in preparation for the City of Culture in 2013.
The executive has approved £27m of funding so work can begin next July, rather than in 2014.
The money has been transferred from the budget allocated to the upgrading of the A5 Derry to Dublin road.
It is hoped eight return services a day will be running by April 2013.
The line will be closed for nine months while the work takes place and signalling work will then get under way in 2014/15.
The £75m upgrade will be completed in three phases starting with track relay and essential bridge works, followed by the signalling work and the final phase will complete the passing loop and remaining bridge works.
It had previously been delayed until 2014 because of budget pressures.
Sinn Fein MLA Raymond McCartney explained that the A5 will not lose out.
"We still back it (the A5) and it is my understanding that the minister will take some money from the A5 profile," he said.
"I am not sure how much but what will happen is before the A5 is constructed, which is maybe two or three years, the minister will have plenty of opportunity to recoup that money to ensure that the A5 proceeds."
Mr McCartney urged people to see the "postives" in the rail upgrade and said the "A5 will not be delayed as a result of this".
Transport Minister Danny Kennedy said despite competing priorities for funding, the case for investing in the rail line was compelling.
"Today's announcement secures the Londonderry to Coleraine rail line's future," he said.
"Rail services can operate eight trains per day for most of the City of Culture year.
"Importantly it sends out a clear message that the executive is determined to ensure that opportunities arising from potential cultural, tourism and sporting events will be fully supported.''
Translink welcomed the announcement of additional funding which it said would "allow the acceleration of planned essential engineering work on the Coleraine to Derry rail line".
"With the additional funding comes a very demanding schedule involving complex tendering and compliance with procurement rules to facilitate commencement of the design work in March 2012," they said.
"Making decisions and getting approvals on time will be critical if this phase of work is to be completed by end of March 2013 and represents a significant challenge."