Stormont inquiry into used tyre disposal begins
By Mike McKimm
BBC NI environment correspondent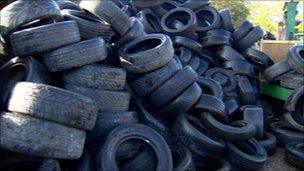 It is estimated that Northern Ireland motorists and lorry drivers produce more than 1.7m used tyres every year.
Or it could be more, or less.
The problem is that no-one is sure just how many used tyres there are in circulation in any one year.
And they are not sure where half of them end up.
It is just one of the problems that the Northern Ireland Assembly's environment committee are having to cope with.
They have begun an inquiry into used tyre disposal and have come up with a list of problems.
Anna Lo, chairperson of the environment committee, said the lack of any data is the key problem.
"How do you bench mark them, how do you trace them?" she added.
"How do you have a system that works if you don't have the data, so that is one of the main things we will be looking at."
Back in 2000 it was established that a target of 85% recycling should be in place by 2005.
The target was missed. The problem is that no-one knows how much it was missed by.
Recently, the committee heard that there was insufficient staff within the Department of Environment to track down those who disposed of tyres illegally.
Tyres found dumped sometimes have identification numbers buffed off them making it even harder to identify the source.
The tyre industry itself reports a drop-off in tyre disposal between April and July.
The reason is used tyres are being stockpiled for the traditional 12th July bonfires.
It is not as big a problem as it used to be.
But thousands are still burnt in one single night, to the horror of environmentalists and the delight of dubious used tyre dealers.
There have been two major tyre fires in the last few years.
One involved anything up to a million tyres in an illegal dump in Londonderry.
Putting the fire out and cleaning up cost in excess of £300,000.
It was this fire that focused political minds on the problem of illegal tyre disposal.
When they have their tyres changed, motorists can be asked to pay up to £2 a tyre to have them disposed of properly.
But once a responsible tyre fitter passes the used tyre on they have little control in where it ends up.
They pay to have the tyres removed. But some unscrupulous people take the money from the fitter and then just dump the tyres over a hedge as many furious farmers will testify.
The inquiry has already had one result.
The Department of Environment has announced that it is to review its position over used tyre disposal and start to gather the required data.
It still doesn't answer the main question - what do you do to get rid of over a million used tyres a year.