Van's Brown Eyed Girl hits the 10 million mark in US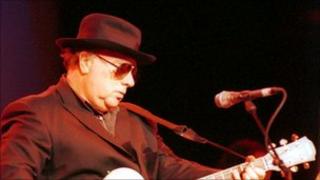 It is a song about a mysterious Belfast girl, but it became an enduring hit across the Atlantic.
Van Morrison's Brown Eyed Girl has now been played on radio in the United States 10 million times and counting.
The east Belfast singer, who began his career playing in bands in the city in the early sixties, was given a special award at the Broadcast Music Inc awards in London on Tuesday night to mark the astonishing figure.
While other top acts like Queen attended the ceremony in the Dorchester Hotel, the singer known to fans simply as 'Van the Man' was absent.
Brown Eyed Girl was first released in 1967 when Van Morrison was only 22 years old. It became his first American top 10 hit, but although it is still popular with listeners the singer has claimed that it is not one of his best.
"I've got about 300 songs that I think are better," he said in a recent interview.
'Elite status'
Broadcast Music Inc is the body which collects fees on behalf of singers, groups and songwriters each time their music is played in public in the United States.
A song which gets into the top 10 in the country can earn up to $1m in royalties alone, but goes on making money long after it drops out of the charts.
BMI spokesperson Robin Ahrold says that Brown Eyed Girl has "transcended hit status."
"It's into a very elite status where if you go for a meal in a restaurant you're likely to hear it played at some point," he said.
"It's a standard which gets airplay all the time, year in, year out."
But Van Morrison still has some way to go to catch the act with the most airplay in US radio history. The Righteous Brothers' You've Lost That Lovin' Feeling has been heard almost 15 million times, and it is still going strong.
There was further Irish success last night. The Script took the award for the most-played song in the United States by a European act in the past year with their hit Breakeven.