UVF supergrass case: Stewart accused of 'confessing to any crime'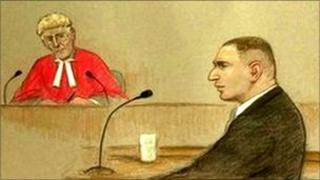 The UVF supergrass Robert Stewart has been accused of confessing to any crime put to him by interrogators.
A defence barrister suggested Stewart was so anxious to honour his agreement with prosecutors that he agreed his part in crimes, without having a clear recollection of them.
Stewart denied lying to the police.
In return for taking the stand, his own murder sentence has been reduced by 75%.
Stewart is testifying against 14 men, some of whom are accused of murder and UVF membership.
The 14 defendants are being represented by 24 barristers and eight firms of solicitors and the trial is expected to last for 11 weeks.
Nine of those on trial are accused of the murder of Tommy English, a senior member of the loyalist group the UDA who was shot dead in front of his family in October 2000 during a feud between that organisation and the UVF.
Both the UVF (Ulster Volunteer Force) and UDA (Ulster Defence Association) are loyalist paramilitary groups responsible for the murder of hundreds of people during the Troubles.
The term supergrass was first used in Northern Ireland in the 1980s when a number of terrorist suspects were convicted on the evidence of fellow paramilitaries.