Invest Northern Ireland set to return millions of pounds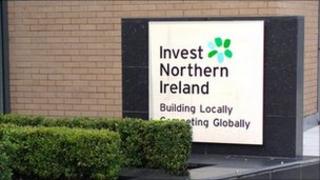 Economic development agency Invest NI cannot spend its current budget and is planning to give millions back to the Department of Finance at Stormont.
The underspend is being blamed on firms postponing their investment plans due to the difficult economic climate.
Due to spending cuts, many public bodies and government departments are struggling to meet their commitments.
But the Department of Enterprise is returning money to the executive as its main agency Invest NI cannot spend it.
Invest NI's annual budget is about £185m.
But it is understood that it has, so far this year, a surplus of £17.5m of unspent money which it is offering back to the Department of Finance.
Both the Department of Enterprise and Invest NI declined to comment, but it is understood Invest NI is blaming falling business confidence.
A departmental document cleared by the Enterprise Minister Arlene Foster said: "Invest NI has identified reduced requirements of £17.5m.
"The reason for this is that market conditions have substantially changed for the worse since February last.
"Invest NI has detected a marked decline in business confidence among its client base which is attributed to a much more difficult set of market circumstances than originally assessed when putting forward its draft budget plans.
"As a result of this, many of the larger companies where Invest NI has significant financial commitments against agreed business plans, are proceeding to implement these at a much slower pace than had originally been anticipated."
Money returned
On top of the surplus, an additional £5m is being re-allocated from Invest NI's budget to Tourism Ireland for overseas marketing.
Three million pounds is to be allocated to NITB for additional work on the area surrounding the Titanic Signature project.
At different times throughout the year, government departments examine their own spending in what are called monitoring rounds when unspent money is returned to the Department of Finance and Personnel (DFP).
A spokesperson from DFP said: "Departments' October monitoring round submissions are due with DFP by close of play today (Tuesday 4 October 2011.)
"The minister will bring his recommendations based on these returns to the executive in due course.
"All transactions related to October monitoring (including resources returned) will be published when the minister makes his statement to the assembly.
"DFP cannot release any information in relation to October Monitoring before the Assembly has been informed."