What now for the Ulster Unionist and Conservative relationship?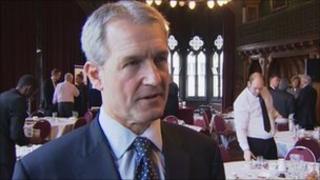 The Secretary of State Owen Paterson has told his party's conference that people in Northern Ireland should be able to vote for a party that can form a government.
So will the Tories stand their own candidates for Westminster elections and what about their relationship with the Ulster Unionists ?
BBC Northern Ireland's political reporter Stephen Walker took soundings at the Conservative Party conference.
The political marriage of the Ulster Unionists and the Conservatives came to an abrupt end in 2010 when their political pact failed to deliver a single MP.
When Fermanagh MLA Tom Elliott took over as UUP leader after the general election it was obvious that the working arrangement had run its course.
Divorce was on the cards.
Now it seems the break up might not be permanent.
Listening to Owen Paterson's keynote speech in Manchester, it seems that the secretary of state has some relationship issues.
He has unfinished business and clearly believes that the UUP/Tory romance may be worth rekindling.
He told activists: "Northern Ireland needs moderate centre-right politics to take forward the values of modern Conservatism."
He said people should have the option of voting for a party that could form a government.
So where is this going?
No blueprint has been agreed and it is clear Owen Paterson does not know how any new attempt will finally work out.
A key question remains unanswered. Should the Tories go on their own or could they shack up again with the Ulster Unionists?
Owen Paterson said whatever new arrangement is arrived at it, has to be "Northern Irish-based".
It is clear all kinds of ideas are being considered.
In Scotland, there has been a similar debate about where Conservatism there is going.
Scottish leadership candidate Murdo Fraser wants to rename and rebrand the party.
Mr Fraser argues that a new name is required to 'detoxify' the brand north of the border.
The Ulster Unionist party leader Tom Elliot says the issue of rebranding the Conservatives has some merit.
However, the chairman of the Northern Ireland Conservatives Irwin Armstrong has warned about any attempt at rebranding.
"Distinctive brand"
He said: "For Conservatives to pretend they are not Conservatives is difficult."
He said local Tories need to show "our Northern Irish credentials".
Experience shows that launching a new party or a political pact takes time to bed down.
The Conservative and Unionist experiment showed many voters were clearly resistant to change.
There were also tensions between the two parties and the selection of joint candidates was prolonged and often acrimonious.
Belfast man Adrian Huston from the East Belfast Tories does not want any new arrangement with the Ulster Unionists.
In the exhibitors hall at the conference centre he told the BBC: "Our future lies in our distinctive brand."
He said: "We feel thoroughly used by the UUP" and added that "unionists that want to leave a sinking ship are welcome to hop on board."
Despite these views some Ulster Unionists clearly feel a relationship with the Conservatives is worth maintaining.
Mark Cosgrove from the UUP says he wants to see "unionists and conservatives working together".
Speaking before a fringe event in Manchester he added that "the vision of centre-right national politics for Northern Ireland is alive and well".
Irwin Armstrong is wary about embarking on a new arrangement.
He told BBC News: "The abject failure of Ulster Conservative and Unionist New Force (UCUNF) makes it difficult to contemplate what type of arrangement could be put in place in the future."
He insists the Conservative Party in Northern Ireland will run candidates in future Westminster elections.
This week in Manchester, Conservatives and Ulster Unionists have had a heart-to-heart about how they should deal with each other.
Should they stay apart or drift back together? Their last relationship caused much hurt and acrimony.
They do not need reminding that any fresh start requires trust and forgiveness.
In some parts of the Conservative and Unionist family that is in short supply.