Thousands of Unison workers set for walk-out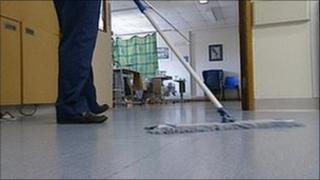 The health minister has said Unison members about to embark on a 24-hour strike will be hurting the "ill and vulnerable".
Thousands of health and education workers will start a strike at midnight.
The walk-out is in protest against front-line budget cuts.
Patricia McKeown of Unison said the situation was "critical" and needed to be put under a spotlight.
Edwin Poots said the strike was "very regrettable" and he did not want to see patients disadvantaged.
Outpatient clinics and elective surgery will be affected, however, Ms McKeown said emergency cover will be provided in hospitals.
The strike will affect all health workers except doctors, and some school staff.
The health minister said he felt those going on strike were making a mistake.
"You may have a fight with the bankers, you may have a fight with the Conservative government but you should not take it out on people who are ill or people who are vulnerable," said Mr Poots.
"On many of these issues I agree with you (Ms McKeown) and I think we do need to get around the table.
"We do need to discuss this issue and we do need to ask to mitigate the damage that is being done as a result of the cuts that are being imposed upon us by the government."
Ms McKeown defended the union's right to walk out.
"Recent reports indicated that we don't have a health service which is meeting its targets in critical areas such as Accident and Emergency," she said.
"The workers are facing some of the worst cuts in their history. They have not been well treated or well served by the government and that is contemptible. The bottom line is that ordinary people are paying."
The majority of outpatient clinics and elective surgery scheduled for Wednesday will not take place, but cover for emergencies will be in place.
Economist John Simpson suggested that Unison's strike action was premature.
"The core message is that we are generously funded by any standard within the UK," he said.
"We should be using what we have got more efficiently."
Mr Simpson said the health minister, Edwin Poots, had not yet published his formal plan.
"The public will think we have got a strike before we have had adequate debate," he said.
The education budget is facing a shortfall of £300m over four years, whilst health is facing cuts of £2.3bn.
The Northern Health Trust has set up an information line for patients concerned about their appointments.
They can check what services have been affected on 028 2563 3758 or at the website: www.northerntrust.hscni.net