Karen Walsh beat Maire Rankin to death with crucifix in Newry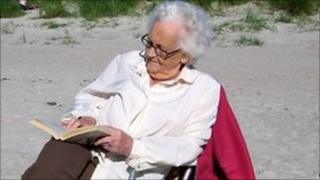 A woman has been found guilty of murdering her elderly neighbour in the early hours of Christmas Day 2008.
Karen Walsh, 45, a pharmacist, had denied murdering Maire Rankin, 81, in her Newry home.
Mrs Rankin was found dead in her bedroom. She had been beaten and sexually assaulted.
Earlier, the trial in Belfast's Crown Court heard that the marks of the crown of thorns from the family crucifix were found on Mrs Rankin's chin.
The ferocity of the assault was so severe that the Christ figure was broken off the crucifix.
Walsh carried out the sexual assault in an effort to cover her tracks.
Mr Justice Tony Hart told Walsh that she had carried out a brutal attack on an elderly and completely defenceless woman.
He adjourned passing sentence until probation reports and victim impact statements have been lodged with the court, adding he would hear Walsh's plea in mitigation on 28 October.
As she was being led away Walsh said: "I'm totally innocent."
Mrs Rankin's daughter Emily read out a statement on behalf of the family, describing the trial as a "harrowing experience".
She said that her mother was savagely and persistently beaten with a crucifix, clumps of hair were violently pulled out by the roots and she was left with head injuries and broken ribs before being subjected to the "ultimate defilement of her body".
It was a "sustained and frenzied assault" and an "horrific murder", she said.
She described her mother as "a kind and caring person who spent her life helping people. She would never have hurt anybody.
"She died alone and frightened. She was denied a dignified death in the company of her family."
Emily Rankin said the family could now focus on the 81 years of her mother's life "and remember her as the warm and generous mother that we knew".
She thanked the police for "their dedicated work in bringing the case to its conclusion", as well as the judge and the jury.
PSNI Detective Inspector John Caldwell said he welcomed the jury's decision.
"But our thoughts are firstly with the Rankin family who have been deprived of Maire's love and company because of the drunken and depraved actions of someone she trusted as a neighbour," he said.
'Unbelievable scenario'
Walsh, who is originally from Galway, worked in Dublin, but who owned the house next door to Mrs Rankin in Newry, had denied the murder.
During the 10-day trial, a prosecution lawyer told the court that either Walsh was the killer or "the unluckiest person in the world".
The lawyer said that Walsh's contention that someone else had killed Mrs Rankin after she had left the house was a fanciful and unbelievable scenario.
However, in her own defence, Walsh had said Mrs Rankin was "a lovely lady" who had been alive when she had left her.
She said she had visited her three or four times before her death, including at 23:30 GMT on Christmas Eve.
She said she had brought a bottle of vodka as a present for neighbours who were out, but had opened it and drank some. She said Mrs Rankin "was fine about it". She said she was delivering a Christmas card to Mrs Rankin.
The trial also heard evidence from Northern Ireland's state pathologist, Prof Jack Crane.
He said considerable force had been used to cause extensive bruising to the scalp and face and that Mrs Rankin had been subjected to a series of punches or blows with a blunt instrument.
He said the pensioner also had 15 broken ribs which, he suggested, might have been caused after death.
Prof Crane gave evidence of other internal bruising and bleeding which he said indicated some form of sexual assault.