Jean Jefferson meets Sean McGlinchey who planted IRA bomb in Coleraine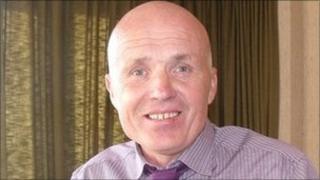 A woman who lost a relative in an IRA bombing in Coleraine has met one of the men who carried out the attack.
Jean Jefferson's aunt was killed and her father severely disfigured in the blast, which killed six civilians in the town in 1973.
She met for the first time last week with Sean McGlinchey, who was convicted of the bombing.
She said Mr McGlinchey, who is the mayor of Limavady, apologised to her and she now regards him as a friend.
Ms Jefferson said it was an "emotional" and "positive" meeting.
"My interpretation of his feelings was that for about the first 10 minutes he was just too upset to say anything, but it didn't need saying, the apology didn't need to be given immediately," she said.
"We had to look at each other, see each other, and then give him time to pull himself together to say what he wanted to say.
"It was a very positive meeting and I felt an awful lot better for having done it, and I hope he did as well.
'Wrong place'
"I rang him afterwards and told him how pleased I was to have met him."
Recalling the day of the bombing, she said: "My father was in the wrong place at the wrong time.
"He had nothing to do with any politics, he had nothing to do with any religious causes, he didn't belong to anything that could have been titled as in any way political."
She said she had read the Historical Enquiries Team's (HET) report into the bombing and had questioned Mr McGlinchey about his involvement.
'Warning'
"It had made him out as the ringleader and I was interested in how at the age of 18 he had become a ringleader," she said.
"I also asked about who the godfathers were and I also asked him about what kind of a warning had he given, did he think the warning was sufficient?
"There was also the fact that Coleraine had a new one-way system which the godfathers as such, had not told him about and he was left with a primed bomb, with a fuse going, so he too was in a very difficult situation, in that he had a bomb that was about to go off and he was in the wrong place at the wrong time in the one-way system."
Ms Jefferson said she had also asked him about his time in prison and what he had done since his release.
Decision
"I was very impressed with somebody, who at 18 had made the wrong choice, the wrong decision, maybe to some extent been used and abused, and who is now spending his life putting back into the community more than what he ever got out of it."
She said she could understand that some people who have lost loved ones in terrorist attacks, might not agree with her decision to meet the person responsible.
Ms Jefferson said it was her father's example that had enabled her to forgive.
"He survived, he lived to tell the tale and he lived to encourage my sister and me to also forgive," she said.
"If daddy had been killed, it would have been different, we would never have had that leadership from him, we might never have got to the point where we could forgive.
"He forgave and we had to forgive and we did forgive."
Ms Jefferson also welcomed an acknowledgement by Sinn Fein's Martin McGuinness that accidental killings by the IRA of civilians could be described as "murders".
"I feel it is a very positive step," she said.
"I see it very much as Martin McGuinness having come round the 360 degrees, that is how it started and now he's looking at it from the other side, from the side of the people who have victims who were killed by the IRA.
"I feel it's a very positive thing."