Prescription charges may be used to pay for life-saving drugs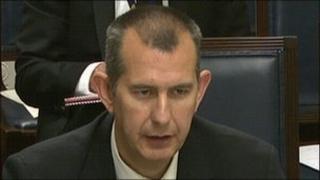 The health minister has told the BBC that bringing back prescription charges could help pay for life-saving drugs.
Edwin Poots said the move could mean charging members of the public as little as 50p per prescription.
Prescription charges were abolished in April 2010 under the former health minister, Michael McGimpsey.
Mr McGimpsey said it would cost the executive around £13m. Mr Poots has said the actual cost is much higher at around £30m.
"The last assembly, the last executive, the last minister decided to offer free prescriptions," he said.
"The cost was apparently £13m - I believe that was closer to £30m."
Mr Poots believes the charge, which initially could raise several million pounds, could pay for drugs which treat cancer and rheumatoid arthritis.
Anti-TNF therapy (tumour necrosis factor) is one of a new class of drugs that target specific proteins in the immune system known to increase arthritis and other inflammatory diseases.
Presently, there are 400 people waiting for the anti-inflammatory TNF drug, compared to England where waiting lists for the same medication do not exist.
Mr Poots told the BBC that there was a "moral obligation" to supply these drugs.
"They are life-changing and life-saving," he said.
"I'm looking at various models to address this - you could bring it back as little as 50p for every prescription - it only affects 11% of the population but could generate millions of pounds."
Danielle McTurk is 18 years old and knows the benefits of TNF medication.
Since the age of 11, she's been taking the drug daily.
As she starts university life studying medicine, she said the drugs had made a huge difference.
"They've given me a new lease of life," she said.
"Only a few days after I started them, I was able to jump out of bed, virtually pain free.
"I had spent most of my time in primary school in a wheelchair, but then I could do my GCSEs and now I'm heading to university."
It costs the NHS around £10,000 per year to maintain Danielle's current state of health.
TNF medication is expensive, but according to Danielle, is well worth it.
"You can't put a price on someone's life and the quality of life is so much better," she said.
"It's unfair everyone isn't treated the same."
While there are 2,000 people receiving the medication, 400 people are still waiting.
European health economist Gisela Kobelt told politicians in Stormont that Northern Ireland needs to catch up, and soon.
"With regards to biological drugs used to treat rheumatoid arthritis, the UK is much closer to central or eastern Europe than to western Europe, and the likes of France and Spain. And Northern Ireland lags even further behind the UK in general, so I'd say the gap is widening."
Ms Kobelt said denying people the medication, was in the long-run, costing the executive money.
"Patients who need them and can benefit on them, need them fast. If not, they will experience irreversible invalidity," she said.
"By treating them correctly and early they can continue to attend school, work and will not become so disabled which requires even more money to treat."
Last week Edwin Poots announced that car parking charges are to be extended to sites which are currently free.
In the same week he also said that he would not rule out charging women who want Caesarean sections without a medical reason to do so.
In order to generate much needed cash, it is not beyond the realms of possibility that this minister, despite what was said in his party's election manifesto, could bring back prescription charges.