Belfast bomb capable of causing death, say police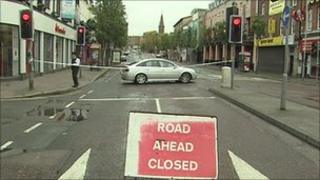 A bomb "capable of causing death or serious injury" has been found in a heavily populated area of Belfast city centre, police have confirmed.
Army bomb disposal experts carried out a controlled explosion at Bradbury Place on Saturday morning.
The alert began on Friday night and caused major disruption to traffic and businesses in the area.
People were evacuated from their homes and commercial premises overnight.
A police spokesperson said: "This was a viable device which was capable of causing death or serious injury and I would appeal to the community for information about the people who left this deadly device in the heart of our city."
Police said the device was found on a patch of ground close to the Sandy Row/Lisburn Road junction.
Bradbury Place has a number of well-known shops and restaurants and is popular for night-time entertainment.
The SDLP MP for south Belfast, Alasdair McDonnell, condemned the incident and said those responsible "have no role to play in this society as long as they continue on this path".
"Businesses in Belfast, and in Bradbury Place where many of bars and restaurants are located, are fighting hard against the current economic tide and do not need the added pressure of competing against viable devices," he said.
"Many workers had to wait several hours this morning before they could get to their place of work.
"That's unacceptable."