McGuinness tells debate royal meeting would boost peace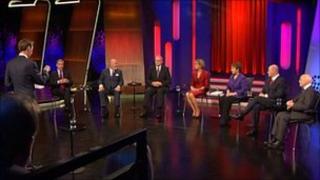 Martin McGuinness has said that he understands Prince Charles is keen to meet him and that such an encounter would boost the peace process.
He made the comments during a presidential debate on RTE.
Mr McGuinness defended his decision not to meet the Queen during her Irish visit.
He added that he would be pleased to meet her if he was elected president and said it would be "a huge occasion".
The Sinn Fein MLA and the six other Aras candidates were speaking on the Late Late Show as part of the first ever televised presidential debate.
Mr McGuinness said: "It was very interesting that the Queen of England spoke in Irish (during her address at Dublin Castle).
"It was very interesting that she stood in honour of those who gave their lives in the name of Irish freedom at the garden of remembrance.
"I think that was a spectacular success from Mary McAleese's point of view.
"But I think the day that the Queen of England comes to Ireland and meets with Martin McGuinness as President of Ireland will be an absolutely huge occasion altogether."