Quest for oil in Northern Ireland has its cost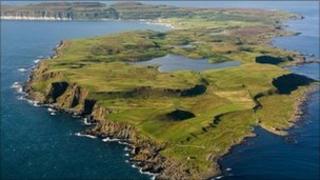 "This is like Chad putting a man on the moon, it's just not going to happen," said controversial columnist and writer Kevin Myers.
"£3bn has been wasted exploring Irish waters for oil, and nobody has found anything, because it is not there."
He may be right. Not one drop of Irish oil has been extracted since the speculators arrived in the 1960s.
So how might the cluster of relatively new companies currently searching the Irish coast on the same quest be explained?
They hope to prove Mr Myers wrong, and some are already making money despite the fact that they have not filled one barrel or canister to date.
Four exploration licences are currently being operated in Northern Ireland. Not a lot of people know that.
In fact many of those living in the areas where drilling is proposed, claim to have been taken by surprise when news of the very existence of a licence was revealed.
In the west, an Australian mining company called Tamboran is searching for shale gas. It is a controversial process.
'Flammable tap water'
'Fracking' or hydraulic fracturing of the rock has in some cases, brought incredible consequences.
Many residents inspired by stories of flammable tap water following the process, are opposed to the plans.
The company has promised not to use chemicals, the first time such a technique has been attempted.
In County Antrim, English company Infrastrata have a license to explore for oil.
Islandmagee residents are twitchy.
They already have Ballylumford electricity station, but simultaneous plans to excavate huge gas storage caverns deep under the salt bed, have prompted anglers and fishermen to ask how marine life can survive, if the salt pumped out of the caverns is deposited around Larne.
Up the road, a hole has already been drilled by Rathlin Oil, a subsidiary of the Canadian firm Connaught Energy.
The results collated at the bottom of that bore hole remain secret, as is the company's right under the terms of the license.
On Rathlin island, Irish oil and gas company Providence is searching for fuel too.
They have a license to explore for oil and gas on the island, and have applied to explore on the seas around it too.
Providence is owned by the O'Reilly family, of independent News and Media, and owners of the Belfast Telegraph.
So what will this mean? The short answer is that nobody seems quite sure.
Providence and Infrastrata declined to be interviewed by the BBC.
However, an analysis of financial data and research into past comments made by Providence provide an indication.
A licence secured in 2004 for the Porcupine basin off the south west coast of Ireland by Providence is now operated by the world's largest energy company.
A licence like this is granted for a nominal fee.
When Providence managed to attract Exxon Mobile onto its permit, the company's share price rocketed.
Eighty per cent of the licence was handed to the multi-national. What was previously an Irish license granted to an Irish owned company, is now under the control of a cluster of big businesses.
Could that happen in Rathlin?
"Only with the approval of the Department of Trade and Enterprise", says Derek Reay, of Geological Survey Northern Ireland.
The BBC asked the Enterprise Minister Arlene Foster for the parameters under which such a decision might be made. We received no response.
Oil industry sources have also questioned whether any oil discovery will lead to an industrial benefit for Northern Ireland.
Profits
William Hederman, a journalist and campaigner has been told by Providence that it is likely that any oil discovered in their Dalkey prospect off Dublin will never land in Ireland.
Refineries in England or Europe seem more likely to get the business.
The benefit of course, will be the predominant preserve of the London Exchequer.
Current rules dictate that any profits will be taxed at around 62%.
A further 7.4% will filter back to Northern Ireland, through the department of trade and enterprise.
Unlike other parts of the UK though, the Northern Ireland Executive does not charge any land rental, something Mr Reay says "could perhaps be looked at".
The maths however are straightforward.
Northern Ireland has no proven resource or ability to extract.
Therefore companies with the expertise must be given incentive to spend in exploration.
As such, a licence costs just £1,000, regardless of how much a company may make through obtaining one.
As Richard Moorman or Tamboran put it, "if this doesn't work, we leave $100m dollars worse off".