Link between narcolepsy and flu vaccine investigated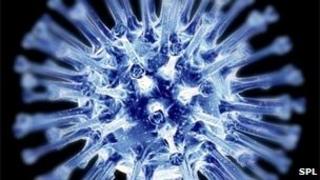 Health officials are investigating a link between narcolepsy and the Pandemrix vaccine in two people who were treated for swine flu.
Northern Ireland's Chief Medical Officer has confirmed to the BBC, that Northern Ireland had become the latest country to report suspected cases of the sleeping disorder.
Dr Michael McBride said the vaccine was used during the flu pandemic of 2009.
"Let's be clear - this is not the vaccine that we use today," he added.
Narcolepsy is a rare and chronic sleeping condition that may also cause muscle weakness.
Dr McBride said: "Two suspected cases have been reported to the Medicines and Healthcare Products Regulatory Agency. At this stage it is a precaution."
No details have been given about the people involved, including if they are children.
Divided opinion
In the past six months, the number of narcolepsy cases in Beijing in China, and Scandinavian countries including Finland has risen significantly.
While Northern Ireland's figure is very low, cases have also been reported in the UK. In the Irish Republic the Health Service Executive said it was aware of 29 new cases of potential narcolepsy in children and adolescents.
With concern growing about the potential side effects of Pandemrix, the vaccine used during the pandemic flu in 2009, the European Medicines Agency completed a review of the drug in July 2011.
It concluded that the benefits of Pandemrix continued to outweigh its risks, but that it may only be used in people under 20 if the recommended annual seasonal vaccine was not available and if immunization against H1N1 was still needed.
At this stage, opinion is divided over whether these most recently reported cases of narcolepsy are due to the swine flu virus or the vaccine used to treat it.
Dr McBride said international studies have yet to reach any conclusion.
"The fact that symptoms occur after a vaccination is given does not mean that they have been caused by the vaccine itself, as underlying illnesses and other conditions may be responsible," he added.
With around 10 cases expected per 1m of the population, Dr McBride said it was typical that new instances of the condition would be reported over a number of years, but no link to either the virus or the vaccine had been made.
In the Republic, a new support group for sufferers of the narcolepsy disorder has been launched in response to the sudden rise in cases.