£150,000 of illegal medicines seized in Northern Ireland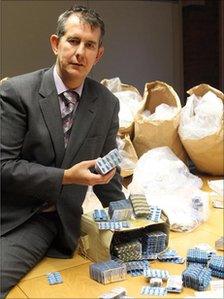 Drugs worth £150,000 have been seized in Northern Ireland during a week-long operation targeting the online sale of counterfeit and illegal medicines.
They included steroids, mephedrone, pain relief injections and diazepam.
Over 80 countries took part in Operation Pangea IV which saw £5m of drugs recovered worldwide and 13,000 websites closed down.
More than 150 packages were intercepted destined for addresses throughout Northern Ireland.
Health Minister Edwin Poots said the primary goal of the operation was to protect the public.
"It is vital that we get the message across that when you purchase medicines from an illegal supplier online, you just don't know what you are taking," he said.
"Illegal suppliers have no quality control or legal standards to abide by.
"Additionally, people who buy from these illegal sources will never know where the tablets they are putting in their mouths have originated or what they really contain."
The Department of Health's Medicines Regulatory Group has conducted several recent investigations into unlicensed and counterfeit medicines and has several cases currently before the courts.