Jack Yeats masterpiece fetches 1m euros at auction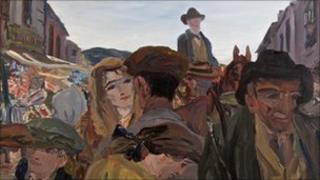 A Jack Yeats masterpiece has been bought in Dublin for one million euros, making it the most expensive work of art ever sold at auction in Ireland.
The oil painting, 'A Fair Day, Mayo', was bought by an anonymous phone bidder at the sale in Dublin on Wednesday night.
Eamon de Valera, who was to become Irish president, displayed the picture in his office during the 1920s.
The artist was the brother of Nobel Prize winning Irish poet WB Yeats.
The painting depicts a bustling country fair and is from Yeats' expressionist period.
Before coming to auction it had been owned by the Reihill family for the last 67 years, Mr JP Reihill Snr buying it from Leo Smith for 250 Irish punts in 1944.
The picture is believed to be staying in Ireland.
The auction was held in the Adam's Irish Art Sale at St Stephen's Green, and the item had a pre-sale estimate of 500,000 to 800,000 euros.
Auctioneer James O'Halloran, Adam's managing director, wasn't surprised with the interest in the painting.
"This picture was one of the largest and most valuable works by Yeats to appear on the market for many years," he said.
"The work had never been on the market before, yet had been seen in a number of very prestigious exhibitions including "Images in Yeats" which was held in Monte Carlo in 1990 and more recently "The Moderns" at IMMA earlier this year."
A second painting by Jack Yeats, called 'The Dawn', also featured in the sale and was sold for 80,000 euros.
The previous top price for a Yeats was the 820,000 euro paid for ' A Blackbird Bathing in Tír na nÓg' in 2005.
It was bought by the Northern Ireland businessman Barney Eastwood who is understood to have a significant collection of impressionist paintings.
The Monaco-based tycoon Michael Smurfit is reputed to hold one of the largest private collection of Yeats paintings.