Mark McGovern says his recovery from a coma has been a 'miracle'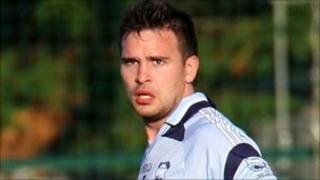 A Gaelic footballer left in a coma after an off-the-ball incident during a match in the US has said it is a miracle he is alive.
Mark McGovern, 23, from Belcoo, County Fermanagh, suffered head injuries in the game in San Francisco in June.
He is out of hospital but is undergoing rehabilitation in California.
He said his goal is to get back to his original state of health and fitness and return home to Northern Ireland as soon as he is physically able to.
The Fermanagh man had only been in the US city five days when he was injured in the game between the Ulster Club and the San Francisco Celts.
He spent over a month in a coma at San Francisco General Hospital.
"One of my doctors told me that I was 97.5% dead," he said.
"At that stage I really really did think of it as a miracle how bad I was.
'Shock'
"I never even knew how bad a shape I was until I was speaking to the doctor.
"It was a shock to know that I was that close to death, so it's just amazing that I even came out of it."
He had to learn how to walk and talk again, but after intensive therapy medical experts said his progress had been remarkable and predict he will make a full recovery.
Mr McGovern's parents and three sisters maintained a vigil at his hospital bedside during the five-week period he was in a coma.
A lot of fundraising efforts have helped the family to cope with Mark's medical and rehabilitation costs in the US, which have exceeded $1m.
The Mark McGovern Rehabilitation Fundraising Committee was set up to raise funds.
Patrick Power, who was accused of being involved in the match incident, was given a 96-week suspension in August by the San Francisco GAA Competition Control Committee.
The family later said they may appeal the ban as they do not believe it is long enough .