Limavady United's loan offer to Manchester City's Carlos Tevez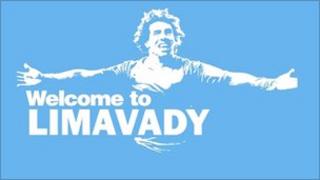 Irish League club Limavady United have offered Manchester City superstar Carlos Tevez an escape route from his troubles with the Premier League club.
The County Londonderry team's vice-chairman David Brewster faxed City on Wednesday afternoon offering to take the multi-million pound striker on loan for the rest of the season.
It follows City manager Roberto Mancini's vow that Tevez would never play for him again after the Argentina international failed to come on as a substitute against Bayern Munich in a Uefa Champions League game on Tuesday night.
Limavady United play in the second tier of Northern Ireland football, with opponents including Harland and Wolff Welders and Ballinamallard FC.
Mr Brewster said the club would be willing to take Tevez on loan and keep him fit, if City agreed to continue to pay his wages.
"Pursuant to the well publicised comments of your manager yesterday evening to the effect that Carlos Tevez would not be permitted to play for your club again, may I on behalf of Limavady United FC indicate our willingness to assist you with a difficult problem," his statement said.
"We would be perfectly willing to take Mr Tevez on loan for the remainder of the season or until transfer, thereby permitting him to play football but without the risk of being cup-tied for the Champions League.
"Limavady United play in the championship in Northern Ireland and our manager would be happy to accommodate Mr Tevez within his squad.
"Naturally, our club would not be in a position to discharge Mr Tevez's wages but I am sure you can see the advantages of keeping him match fit prior to any possible sale."
The offer has yet to receive a response from Manchester City.
The BBC has learned Tevez feels his row with boss Roberto Mancini was about warming up and not a refusal to play.
The 27-year-old felt he was ready to play when asked to prepare to come on in the second half of the 2-0 defeat.
Tevez blamed "confusion on the bench" for the "misunderstanding" in a statement on Wednesday.
In his statement, Mr Brewster said he looked forward to Manchester City's "early reply to permit us to complete the necessary paperwork with the Irish Football Association if the matter is to proceed".