Jennifer Cardy trial: Ex-colleagues of Robert Black testify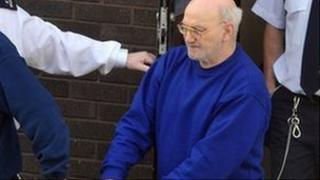 Former work colleagues of Scottish van driver Robert Black have been giving evidence at his trial for the murder of nine-year-old Jennifer Cardy in 1981.
They were questioned about vehicles, routes, ferries and petrol stations used by drivers at the company for which they and Black worked.
The prosecution say Black's job at PDS saw him in Northern Ireland on 12 August 1981.
That was the day Jennifer was abducted and murdered near Ballinderry.
The prosecution alleges Black would have driven right by the area known as McKee's Dam, near Hillsborough, where Jennifer's body was found.
The company he worked for, Poster Dispatch and Storage is no longer in business.
However, Michael Carder, who also worked as a driver the firm, told the fourth day of Black's trial at Armagh Crown Court that fuel receipts pointed to him being in Northern Ireland on a delivery run.
He said a receipt signed by Black the following day - 13 August - at a filling station outside Coventry on the main road to London suggested he was returning from the ferry at Liverpool.
When asked by Crown lawyer Toby Hedworth QC where he believed Black had been the previous day, Mr Carder replied: "I would have said Northern Ireland."
With Black looking on from the dock, Mr Hedworth then asked the witness had he any doubt the accused was in Northern Ireland that day.
"No," said Mr Carder.
Mr Carder said the Datsun van Black was driving when he bought the fuel was only really used for the Northern Ireland route, and trips in and around London and East Anglia.
However, Black's defence counsel David Spens QC said the witness's assertion that his client was in the region was based on two assumptions: that PDS carried out a delivery in Northern Ireland on that date; and that the Datsun van was limited to Northern Ireland, London and East Anglia.
Mr Carder agreed with the lawyer's point.
Overnight ferry
A son of PDS' former owners also gave evidence.
Ian Staalem told the jury how he or his father would have driven the Ireland route and that the only employee he could recall making that trip was Robert Black.
He was shown a fuel card receipt from 13 August 1981.
This was signed by Robert Black and related to a petrol stop in Coventry.
Asked to comment on this, Mr Staalem said that - given the particular van and the direction in which it was travelling - it could have been that Robert Black was driving back from Liverpool having returned from Belfast on an overnight ferry.
Cross-examined by a defence barrister, he agreed he could not say for sure that this was the case.
The trial continues.