Doctors say Irish dancer's baldness linked to hair pinning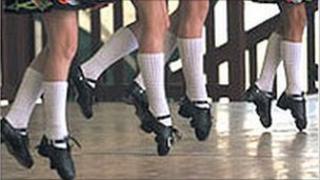 The hair pins used to secure extravagant Irish dancing wigs may have led to a teenager's hair loss, two Irish doctors have warned.
In the Irish medical magazine, Hospital Doctor, they asked young Irish dancers to beware of pinning on heavy ringleted wigs.
Dr Sally Jane O'Shea and Dr Aoife Lally of St Vincent's University Hospital, Dublin, pointed to the case of a 16-year-old girl, who had a history of hair loss over three years.
However, Irish dancing teacher Linda Doherty from LegenDerry dancing school said she had never heard of the problem before.
"There is a risk with hair extensions and wigs and my heart goes out to this girl. But it's the first time I have heard of something like this," she added.
The teenager involved said she had found two distinct patches of hair loss on her head, but the hair grew back within two months.
A year later, the same thing happened but the hair grew back again. However, after a third bout of hair loss which lasted seven months, she attended the clinic.
The doctors discovered that she was a keen Irish dancer. They found that the pattern of her hair loss coincided with the annual Irish national dancing competitions.
"The sites of alopecia corresponded to those to which a wig, worn as part of her costume, had been fixed with hair clips," the doctors noted.
"Not only that, but March/April was the peak time for dancing national competitions."
They concluded that the girl had developed "traction alopecia" as a result of this hair pinning, which had eventually developed into scarring alopecia.
"Although initial hair loss is non-scarring, with repeated trauma, scarring alopecia may develop, which is similar to the clinical history of our patient," the doctors said.
They said it was surprising that more cases had not been described to date and they added that this unusual case "should be considered in patients of this age with similar interests".
The report appeared in issue 8 of Hospital Doctor of Ireland 2011, a clinical medical journal aimed at secondary care in Ireland which is edited by Shauna Rahman.
Ms Doherty, who has been an Irish dancer since the age of six, said she believed wigs were a safer alternative to hair styling.
"When the pupils buy wigs they are shown how to fit them safely and common sense tells you that you shouldn't wear them 24/7," she added.
"But for me it was quite a relief when I started to wear wigs. Before then I had to use rollers, which I think are worse for the hair."